Juxtapoz
Studio Visit: Jeremy Fish
July 05, 2012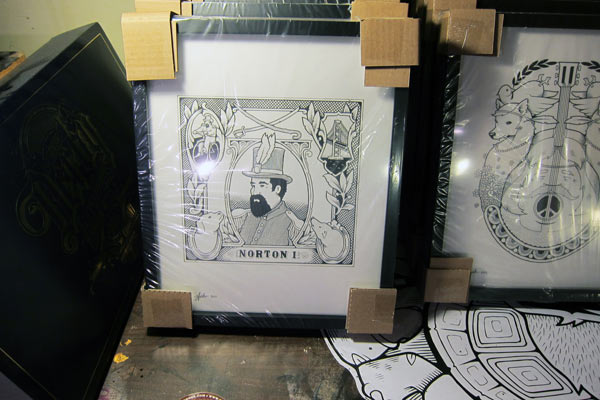 We get a chance to visit with
Jeremy Fish
every so-often, and generally it is on the occasion of a new exhibition or body of work being built. What we enjoy the most about visiting Fish in his SF North Beach studio is that whatever research or preparation he has compiled while making the work, the remnants are evident throughout his space. We stopped by Fish's space this week to see what he has prepared for his newest solo show,
Where Hearts Get Left
, a visual and narrative body of work that works like a love letter to San Francisco. The exhibition opens on July 14, 2012,
at FIFTY24SF Gallery
in SF. 
What makes Fish unique in the world of contemporary art is the submersive, storytelling nature of each exhibition. The works tell a tale, whether a love letter to San Francisco or a historical look at the Barbary Coast. You walk into a show, you get an experience. Where last year Fish's show a
t Joshua Liner Gallery, Listen and Learn,
saw the artist looking outward to friends for inspiration and story, Fish has returned to San Francisco for a more personal look at a city he has called home for over two decades. As most of us who have called this place home since birth or for decades, SF is a city of transients and constant transformation. Some hate it, some love it, and nobody really exists in between. But what will remain a constant is regardless of the new money and residents that technology brings in its fourth and fifth waves, the city remains an enigma of uniqueness.
We are a small, crammed town, with a rich history of eccentric personality, and regardless of who comes here, the bug just seems to catch even the most conservative mind. From the looks of what we see here, Fish captures that spirit with open-mind and pride, and Where Hearts Get Left will make any SFer feel proud, and any outsider just as curious. 
The Dude:

Jeremy Fish
Where Hearts Get Left
July 14—September 14, 2012
FIFTY24SF Gallery
San Francisco, California