Amber Boardman: South of Bushwick… Way South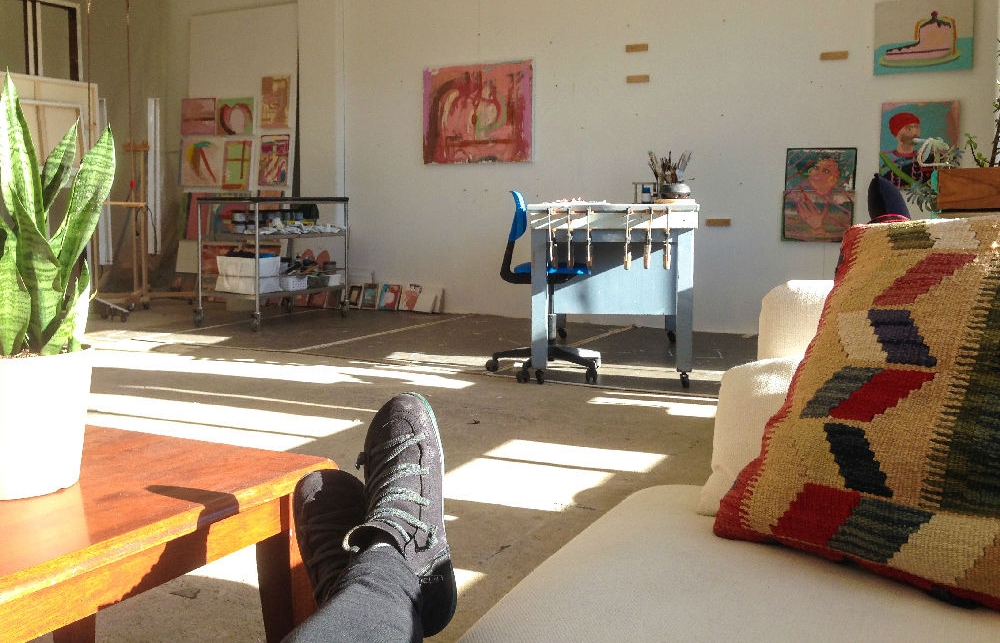 I moved from New York to Sydney four years ago, and in that time, I've had six studio moves. It's pretty disruptive. So when I found this marvelous place, I really wanted to settle in and make it mine.
" It's in an industrial area where there is a lot of development going on. The owner of the building died recently, so I'd been thinking it would be just a matter of time until we got kicked out for the sake of condos. But last week, the guy in the lighting shop downstairs told me the owner decreed in his will that no one could sell any of his buildings for 60 years. Yeah! He was looking out for us! Or at least his family's assets. Either way."

Portrait by Louisa Eagleton
"Work spaces are so important. I feel really lucky to be working in the studio of my dreams. It's big, sundrenched (love that absurd realtor term), and it's a five-minute bike ride to a gorgeous Aussie beach. Too bad that with my American work ethic, I don't get to the beach more, but nice to know I could! Also too bad it's 10,000 miles from NYC. No one comes to visit. Their loss! The only other downside to the studio is the no-toast policy. The smoke alarms are really touchy and If anyone sets them off, we get charged a thousand bucks. Thousand dollar toast is not on the menu.
My studio is called Bushwick South. You know, like Bushwick, where lots of artists have studios in Brooklyn—I co-founded a shared exhibition/studio space there back in 2009, and I wanted to bring some of that spirit to the southern hemisphere. My studio mates are wonderful."
"I recently took it upon myself with my last exhibition to learn how to frame my own work. I didn't know what I was getting into. It's really hard! We all need to give our framers more respect. I also didn't realize how sawdust can blanket your studio in no time. I just put up some crime scene plastic and sectioned off a woodshop corner. That helped.
For me, studio vibes have to feel conducive. Some of my MFA buddies and I have this expression we call TIGS, our altered acronym for Time To Get Serious (TTGS). That's the moment in the studio where you stop fucking around and actually get to work. It's a magical moment. I have a studio ritual of curating the environment by burning some fragrant oils, brewing special tea and listening to specific music to get in the TIGS zone." —Amber Boardman
Read our interview with Amber from the January 2017 issue here.