Street Art
"Wood Hood" @ BC Gallery
November 26, 2013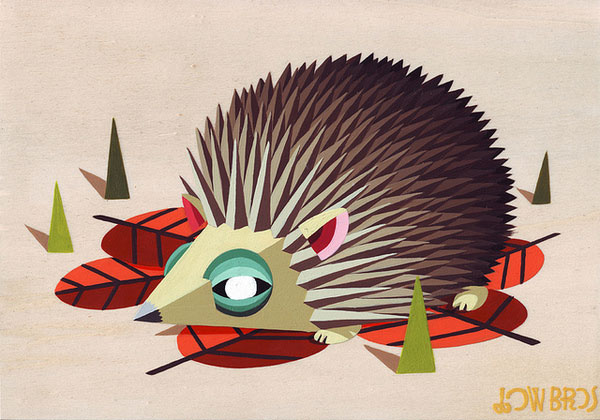 BC Gallery in Berlin is proud to present "Wood Hood," a solo show by Berlin-based, Low Bros (featured in our October 2013 printed issue). From the 7th of December to the 8th of February the gallery will be showing brand new works by the brothers Florin and Christoph Schmidt.
From the galleries website:
The title of the exhibition might come across as a simple rhyming pun but, is in fact the most basic form of introducing the Art of Low Bros. Wood in a forest represents nature and naturalness, while the hood as an urban neighborhood embodies the codes and attitudes of the big city. What began in Hamburg as a game for the childhood of the brothers Christoph and Florin Schmidt, going from backyards to rural idylls, culminates today in a unique universe that draws its power from the ambivalence between urbanity and nature. Their imaginative animal characters are always paired with human attitudes influenced by elements of youth culture from the 80s and 90s. The works live off of the complex interplay of two- and three-dimensionality when geometric surfaces with cubism meet flowing organic forms , expressive color pallets and multi-faceted patterns. The technical precision and attention to detail are remarkable. The intricate play of light and shadow enhances the contrasts and combines seemingly incompatible elements such as street life and enigmatic mystic nature. The fact that this is still achieved in a very light-hearted way , is due to the many cheerful details, that unfold on closer inspection. Ambivalence with a wink, as one could describe the world of Low Bros, where in turn their sceneries unveil sureal places of wonder. The artist duo Low Bros, formerly known as Qbrk and Nerd active solo, was formed in 2011 and has since created numerous thematic series of its characters. They live and work in Berlin.
BC GALLERY
Libauer Straße 14
10245 Berlin-Friedrichshain
S-/U-Bahn Warschauer Straße