Street Art
The Bedroom Fetishes of Don Draper: AIKO preps New Work for "Beyond the Streets"
April 25, 2018
Aiko's contribution to the forthcoming exhibition, Beyond the Streets, is nestled into a section in the show where there's only one way in, and one way out; protection from what is occurring outside the confines of the concrete enclosure. Given her latest body of work - which is equal parts an homage to 17th century artist, Katsushika Hokusai. (who painted massive tidal waves)) as it is a look back at the peep shows and massage parlors which peppered New York City's Times Square—the fortification seems particularly apropos, and one that the artist feels excited to explore.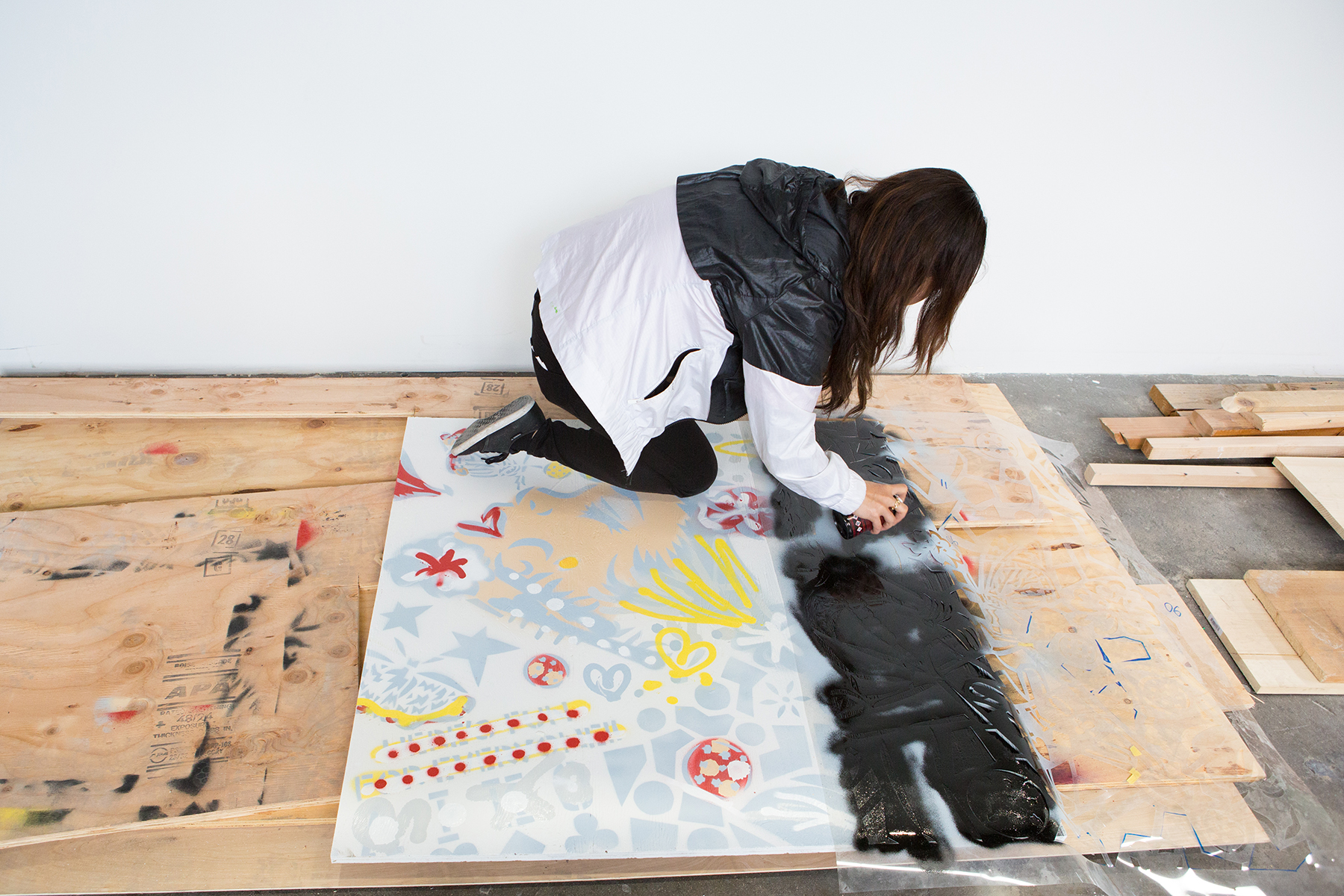 "It's a theme of the 'red light district' and Japanese pornography from the 16th century," Aiko says of her inspiration. "We have a tradition of pornography [in Japan] and I wanted to mix it with things I saw in the Western communities."
From an aesthetic perspective, there are throbbing, people-sized penises, a shower stall with plans for a dancing girl, and paintings of buxom women and square-jawed men which gives the impression of getting a look into the bedroom fetishes of Don and Betty Draper from Mad Men.
"There used to be a lot of peep shows and massage places," Aiko says. "It's what I used to like about New York City. I moved there in the late '90s and that was kinda the end of the griminess. For this show, I'm really focusing on the erotic side of my characters."
Aiko's work showcases the fact that what we find "pornographic" has dramatically shifted as time has passed. And although there are images of reproductive organs and breasts, she also leaves ample room to let one's imagination fill in the rest of the details.
Aiko's immersive installation is on view to the public at the Beyond The Streets exhibition starting May 6. For tickets, times and more, visit beyondthestreets.com