Street Art
Renowned Street Art Festival Nuart Joins Forces With Oslo for Something "RAD"
August 03, 2017
Our friends at Nuart Festival jump start a new collaboration with the city of Oslo, Norway with Nuart RAD and street artist and interventionist, Isaac Cordal. The public art project aims to celebrate the diversity of the four neighborhoods of Oslo through which the river flows - Nordre Aker, Sagene, Grünerløkka and Gamle Oslo – and invite the local community to rediscover the area through the creation of an 'art trail' that traverses boundaries, both real and imagined. Nuart RAD will be 'officially' launched with a conference and series of events, film screenings and workshops this fall (exact date TBC). Spanish artist Isaac Cordal was the first artist out the traps, putting up a total of 21 miniature sculptures from Frysja in the north to Grønland in the south.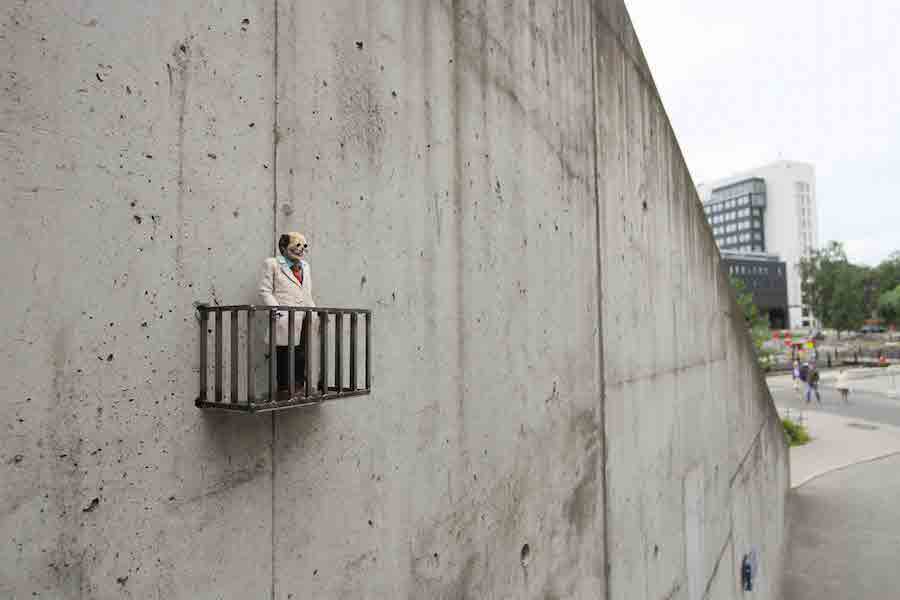 Nuart RAD forms the core of Oslo Municipality's five-year action plan for street art, which promotes graffiti and street art as part of contemporary art in public spaces. After the Art Order was changed in 2013, 0.5 percent of Oslo's total investment budget is now allocated for public art.

"A larger proportion of funds are used for art in the city's many outdoor spaces, for temporary events and for projects that are developed over a longer period of time in line with the city itself," says Lise Mjøs, Department of Arts in Oslo Municipality. "The collaboration with Nuart is a project we have high expectations for. We hope that the art projects engage and contribute positively to better urban environments", says Mjøs.

And of course, you probably know the works of Isaac Cordal now, especially if you have been following Juxtapoz's street art coverage in recent years. Cordal is a Spanish artist who since 2006 has placed miniature sculptures in public places around the world as part of an on-going series called Cement Eclipses. See his work above in the gallery!

Photos courtesy the artist and Trym Schade Warloe
The Nuart Festival takes place in Stavanger, Norway, September 2—October 15, 2017.