Street Art
Interview: Street Art Mainstays PichiAvo Make Their London Debut
Aug 10, 2017 - Sep 24, 2017Unit London, London
After years of producing distinct work at some of the biggest street art events worldwide, which culminated with a large piece at the renewed Dolphins stadium in Miami and a mural at the infamous Bowery Wall in NYC, Pichi & Avo will be coming to English capital this August. Teamed with Unit London, a gallery known for having a finger on the pulse of urban and contemporary art, the Spanish based artist duo are preparing a special event that will go well beyond gallery space.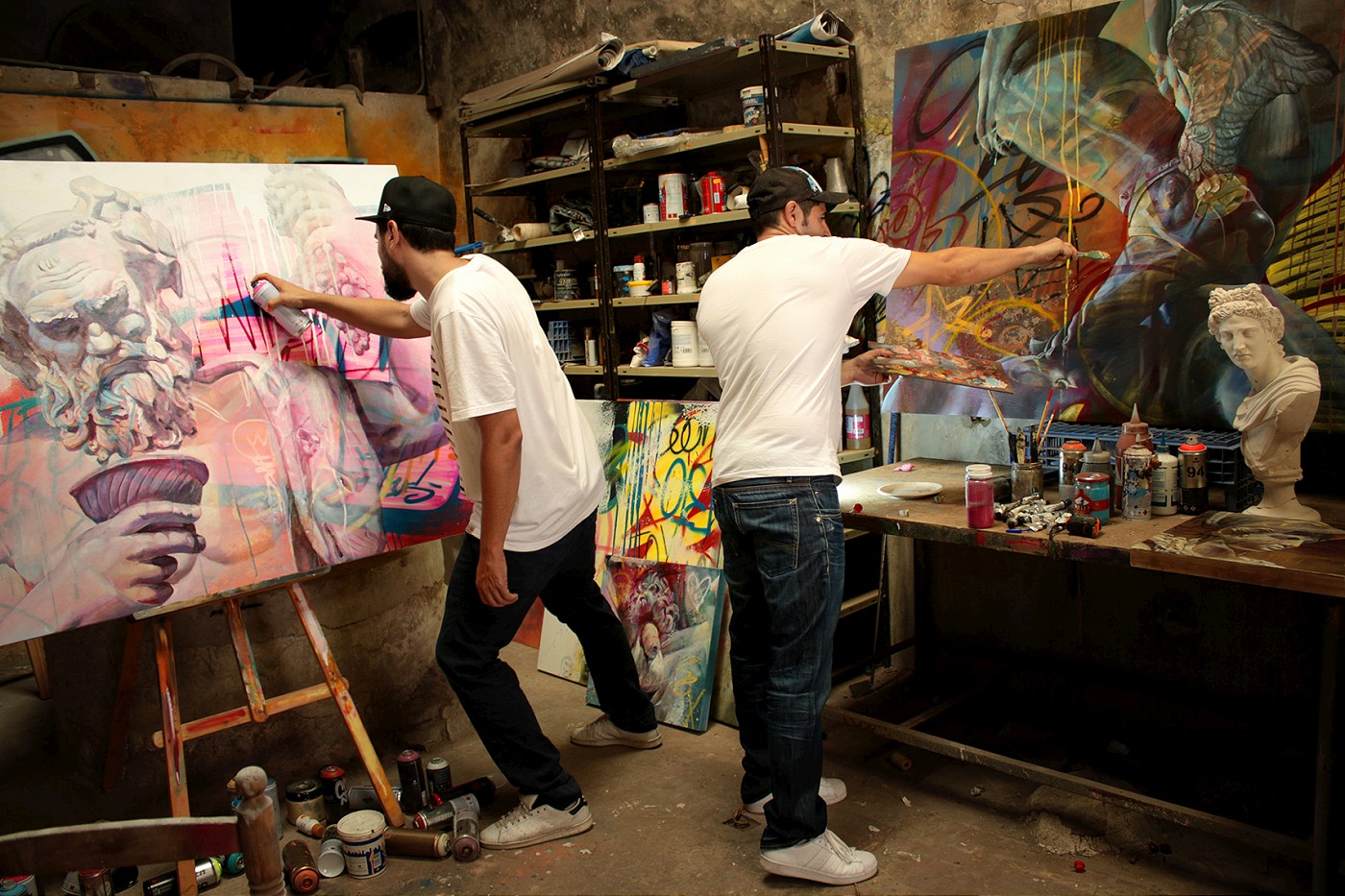 We recently got a chance to look at their progress and talk with them about the upcoming showcase "In Gods We Trust" that will open on 10th of August.
Sasha Bogojev: What are you preparing for your big London debut?
Pichi & Avo: We are preparing an exhibition to show people who we are - graffiti writers and classical artists. We want to bring the gallery to the street, and the street to the gallery - we want to demonstrate that these things don't have to be separate - inside and outside, fine art and graffiti. The theme of the exhibition is based on the Twelve Olympians, perfect for our first major solo show in London to reveal our vision of the Olympians, gods and goddesses each represented in a different way in terms of color, painting technique, and adding our style - where each canvas has the god's personality and a relateable story, an urban backdrop full of tags and symbols.
There is also the chance for people to see our new sculptures and there will also be some surprises. We hope to introduce people to our world of "urbanmythology".
Are all the works in the show painted for this showcase?
All the works you will see in the new exhibition at Unit London were made just for that show. We started preparing in 2016 and all that year we were working towards making this happen. All the works are completely new and have never been shown before, and because we've also never shown in a London gallery before, we can't wait to see people's reactions.


Is the new work in any way site specific, focused on local elements? If yes, could you tell us about few of them?
All our works are made for a particular place, and we always try to relate the work to that place, playing with words or with the sculpture. We try to show a myth related to the local environment and to the current moment.
We don't want to tell people what to think of our work and the stories in it, we want them to find the meaning and that's the game - to watch and think. Every person is unique and will have different ideas.
Your work is glorifying European history in a way. Do you think it has more significance in the post-Brexit Britain?
Our work represents our personal art background and our culture, and that history and culture brings value to what we do. If people from Britain believe that our art has more significance in a post-Brexit era, then that is their interpretation of how our work relates to them. We're excited for UK audiences to see our art and consider the past and the present.
Are you addressing any of the political or social issues in your work?|
No, our work is not based in a political-social critique, that's not our main purpose. We're searching for something different. There are a lot of artists doing really great work with political and social issues, but we feel that we need to do another type of work: highlighting classical art and pure graffiti all in one and reliving mythology, from which there is so much still to learn.


How did you connect with Unit London and how does your work fit with their program?
Our first connection was 3 or 4 years ago online. Their program is modern yet classic and we totally represent that, it has felt completely natural and we always knew we'd inevitably do a show with them.
Any other special announcements or hints ahead of the big show?
Yes, people from London, and Soho especially, will have some PichiAvo surprises in the streets if everything goes as planned as well as in the gallery space. We are trying to give London audiences a show just for them, with all the love and respect we have for them and the UK.
The show will be on view from August 10—September 24, 2017