Street Art
Interview: Remixing, Recycling and Reinventing with Bordalo II
Feb 24, 2018 - Mar 24, 2018Heron Arts, San Francisco
Having traveled the world covering street art over the last decade or so, we've seen some incredible artists and practicies. One of the most unique methods has to be the work of Bordalo ii, a Portuguese artist who creates sculptures from recylced materials, found objects, including now iconic trash sculptures of endangered animals. The artist is currently in San Francisco preparing for his newest solo show, Trashedy, set to be on view at Heron Arts from Feburary 24—March 24, 2018. We got a second to catch up with Bordalo ii while he was setting up a new mural in SF and asked about gallery work versus street installations, and his first time showing in the United States.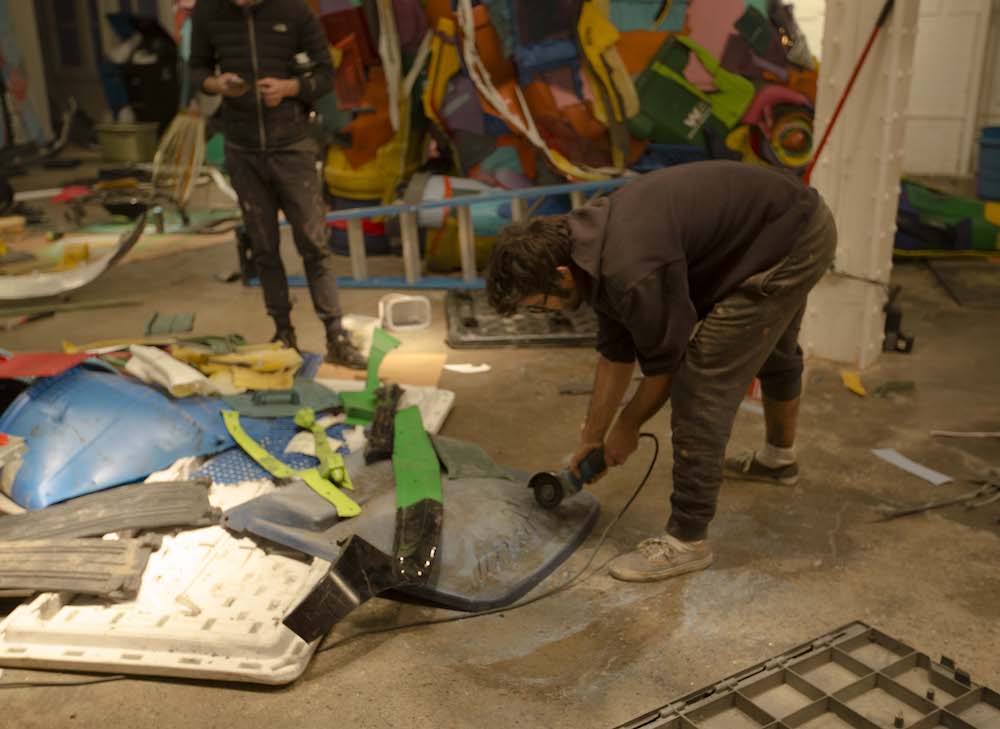 Evan Pricco: This is your first solo show in the United States! But obviously, not your first time working here, because you have done works on the street here before. Are you excited about having a gallery show in the States?
Bordalo ii: Yes, in a gallery setting I am able to visualize the work and produce each series for the viewer. I have many series of pieces, that most people who view my work in the street do not see. In the gallery, I am able to showcase all of them and manipulate the experience to be exactly what I want. It is also interesting for me to create an exhibition for people from a different country and culture.
Have you spent time in San Francisco before? What are your impressions?
This is my first time in SF and it is one of the most beautiful US cities I have been to. It's insane how many homeless people are in the streets. It seems like the issues are not only drugs and mental health, but you also see regular looking people who have lost their homes and are living on the streets. It's strange to see people like you and me on the streets and you wonder what has happened in their lives to have them end up living in a tent underneath the freeway. Apart from the homeless, the city is filled with emotion and allure and I'm happy to be creating something new here.


When it comes to gallery versus street works, do you ever have a crisis of conscience? Like you are making commentary about consumption and yet working within in a gallery?
No crisis of conscience at all. I don't understand the rival between legal vs illegal. Everyone is free to do what they want. I did illegal graffiti, I mean "the real deal", for almost 20 years before I started to do art. Now, I am doing something completely different and I feel great about that. It would be boring to paint, sleep, repeat. I don't think about art in a consumeristic way. It's not that I'm trying to sell fancy shoes or the last model of a smartphone. The art that I make is not even a product that keeps people away from reality, or something materialistic or superficial. I believe it is the opposite. Art and culture are the base that can change a whole generation with all the relevant messages to make peole think about what matters and eventually change anything in this world.
San Francisco is a weird city of dichotomies: its environmentally aware, trying to create technologies that better use the world around us, but there is suburban sprawl and plenty of cars all around. Also, there is so much turnover in tech devices that there is a ton of waste, too. But there are so many companies trying to figure it all out. Its a weird place of consumerism and activism. Does that resonate with you?
I've only been here for a week, but I understand what you mean. It seems like there is a lot of work to do here if we want to call this a city of activism, or a city of the future. We can't wait for big companies to give us amazing products and solutions to turn the world into a better place. Each person, just like us, needs to change their habits and live a sustainable lifestyle.


What do you have planned for the Heron Arts show?
I always leave the possibility for change at the last minute, but for now the show will be composted of a big sculpture, a smaller installation room, 11 gallery pieces from three of my different series of works, and a mural in the street.
Will you do any public works in San Francisco?
One wall is planned, but If there´s time I´d love to make one more.
Bordalo ii's solo show, Trashedy, will be on view at Heron Arts in San Francisco from February 24—March 24, 2018.