Street Art
Interview: Herakut's "Rental Asylum" @ Corey Helford Gallery, Los Angeles
Feb 24, 2018 - Mar 31, 2018Corey Helford Gallery, Los Angeles
For almost 15 years now, HERA (Jasmin Siddiqui) and AKUT (Falk Lehmann) have created one of the most enduring and influential street art duos working in the world today. The German artists have taken Herakut from street works to murals, gallery shows to performance, with sculptural works that take their characters from 2D to 3D to everywhere in between. Herakut are set to open a new solo show, Rental Asylum, at Corey Helford Gallery in downtown Los Angeles on February 24, and we caught Jasmine right before her flight to LA to talk about the title of the show, the changing political landscape in both the US and Germmany and the evolving nature of her work.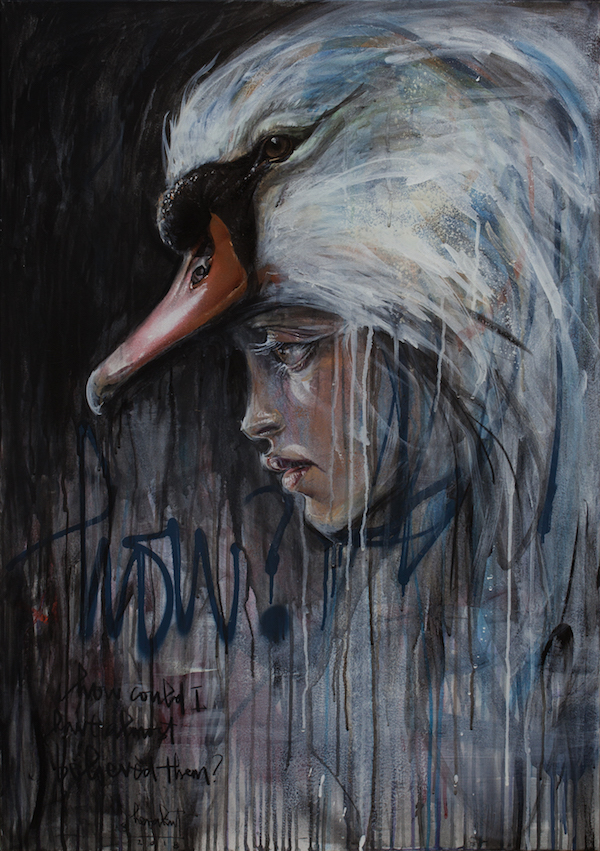 Evan Pricco: I get why you named the show "Rental Asylum," but when you guys are working on a new show, how quickly does a name get developed ?
Jasmine Siddiqui: When choosing a name, we look at the story the first finished pieces are beginning to form. In this case all our canvas-babies seemed a bit distressed, quietly battling their private demons, alone or by clinging to a helping hand and body. Sitting in front of them, stroking the canvas, becomes almost like observing a patient through the window of a cell. You can see them, but you cannot get through to them. "Queen of Silence" e.g. even wears some sort of glass bubble helmet, an astronaut-meets-deep-waters-explorer. She is so far detached from this world, that we can really just wave and watch. Of course, that´s a part of us, right there. Something inside Falk and me is clearly floating on a distant outskirt of our planet. And, to be honest, I don´t blame that part for leaving.


What I have always loved about both of you is that from the get go, it was never just about street art, or murals, or paintings, or even performance, it was all about sort of pushing boundaries of where your aesthetic could go. Do you both go in an out of preference in terms of mediums to work in? Do you sometimes find murals to be more exciting than studio work, or are you sometimes more focused just on sculpture? Just curious how you flow in and out of projects.
If you could see my apartment right now, it would be the perfect answer to this: it all happens simultaneously. Towards the end of the show preparations for LA all walls were covered by canvases, heaps of sketches are on the sideboards and there is a 3-D-model of a parking structure planted on my kitchen table – a small version of the building we are about to paint a mural of in collaboration with Case_Maclaim this summer in Frankfurt. And you´ll find animal-shaped hats, our those typical Herakut-hats, rats, rabbits, unicorns, wolves, etc. I´m creating those for the Munich Symphony Orchestra to wear during a performance on March 14th at the MUCA museum. We won´t only dress these guys up, but paint the walls around them. It´ll be like bringing our Herakut kids to life. I could´t resist packing one of those rat-hats to travel with us to LA, though. You see: we really live with our creations, so one project never really ends.


Since your last show in the US in 2016, there has been a continued mood shift here, obviously dealing with politics, but just overall mood about the way we treat each other. Does some of that rub off onto Germany? Have you seen a little bit more polarization in Germany like we have seen here?
Germany received a nice slap in the face last year, with the tragic rise of new far-far-right neo-nationalist party became the third biggest political power in parliament. We could´t believe it. Hate-speech was something to connect with die-hard U.S.-Republicans. Not Germans. (Well, not since The Third Reich, at least.) And another shocking realization had an impact: Germans should´t feel so ethnically superior when it comes to the topic "guns", because our economy has profited so absurdly much from the arms industry. To us personally, all political events and the new kind of public awareness that luckily stemmed from this, made us value our own private bubbles more. We have actually both turned off a lot of the outside-noise, completely cut bullshit entertainment outlets out of our day, and focus on the small space that surrounds us directly. No more The-Real-Housewives-of-this-and-that for me, no star-trash-magazines which I used to love. The real detox-cleansing-our-minds-phase has not begun, yet, but at least our daily media consume is a bit more "nurturing".
How does that affect your work? Coming to the US and knowing the audience is in the midst of a cultural transformation?
Whatever happens in the US has a global impact, there is no denying. And ever since I spent my high school senior year in Los Angeles (Venice High School 1998), I have family in this part of the world, and I almost feel obligated to follow everything you guys are coping with as close as I can. The gap in your society, though, is painful to see. Looking on from afar, I´d describe the US-symptoms as schizophrenic with a personality that is so split, you can actually see two faces biting each other. It´s madness, and there´s not really a doctor to call for.


Do you have any murals planned, too?
Yes. One by the gallery and one on 1728 N Spring. Would love to do more, but there´s the food-throwing baby waiting for Falk, remember? And there is that thing we´ll be preparing for the orchestra in Munich. But it looks like we´ll be back in the US again this year. Just got a nice festival invite. We'lll keep you updated!

Herakut's new solo show, Rental Asylum, will be on view at Corey Helford Gallery in Los Angeles from Februray 24—March 31, 2018.