Street Art
International Dealmaker Group Show Has The Heavweights: Shepard Fairey, Escif, BLU and NoNAME
March 06, 2018
Continuing their long lasting relationship with some of the most illusive and respected names in the Street Art movement, Positive Propaganda in München recently hosted International Dealmaker, a group show featuring works by Shepard Fairey, Escif (who is also featured in our new Spring 2018 issue), BLU and NoNAME. Working hard to establish contemporary and socio-political art in an urban space, the non-profit organization wanted to showcase and celebrate some of their most successful actions and collaborators, as well as help fund their future projects.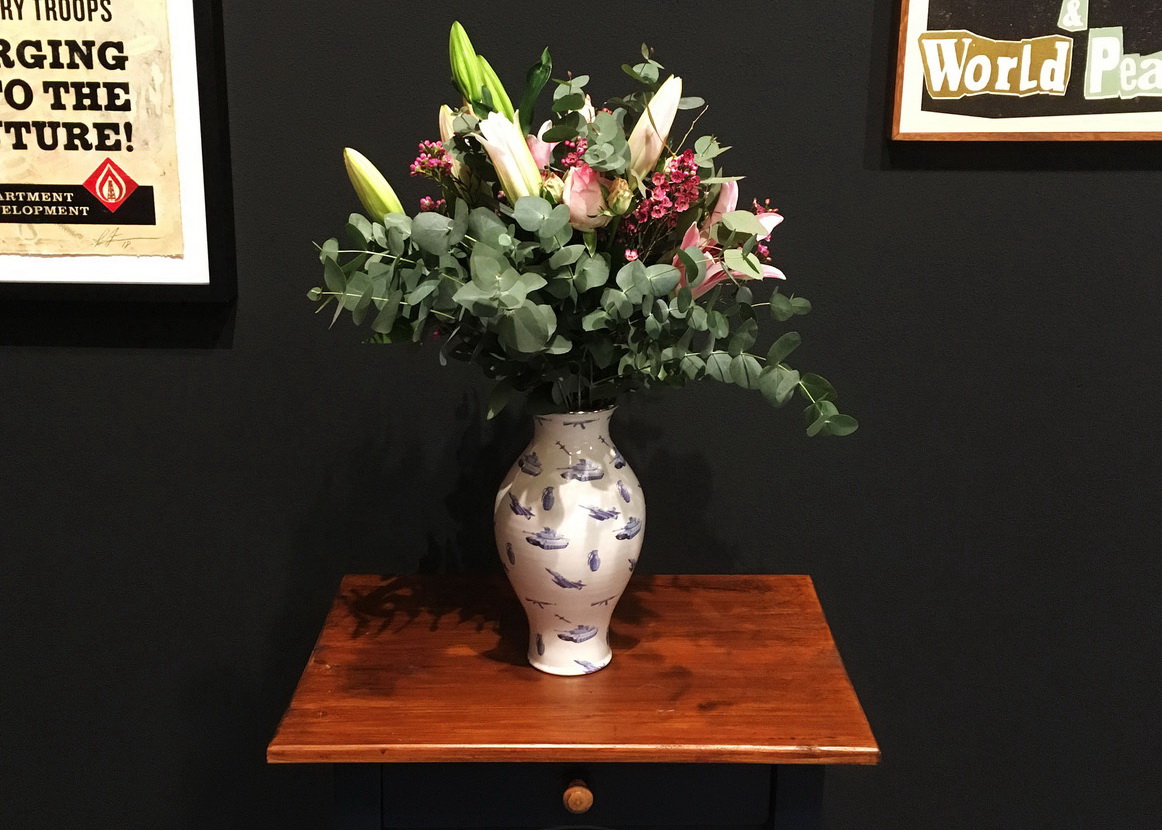 Sponsored by Kulturreferat München, the show opened for the public on 16th of February, presenting original works and limited editions by the world renowned artists. BLU exhibited classic limited print editions released with lthe egendary POW printing house in London along with his groundbreaking stop-motion films created using shots of large-format murals as frames. Shepard Fairey exhibited a selection of both unique and editioned works, creating a recognizable cluster of propaganda-like visuals. NoNAME and Escif both showcased new watercolor drawings on paper, as well as produced low-editioned, hand-finished screenprints to help the efforts of organization.
INTERNATIONAL DEALMAKER - Opening from Positive-Propaganda on Vimeo.
Positive Propaganda marked the occasion by introducing a real life version of a stoneware vase based on the mural that the Spanish artists painted in their hometown back in 2016, criticizing the local weapons industry through use of traditional decorative household item. Similar to his revision of baroque motif of fruit basket, now upgraded with additional grenades scattered among fresh fruits, Escif's pottery is decorated in traditional Delft blue pattern made of tanks, bomber planes, automatic guns and grenades. —Sasha Bogojev