Street Art
Ernest Zacharevic "Art is Rubbish/Rubbish is Art" @ Hin Company Bus Depot, Penang, Malaysia
January 22, 2014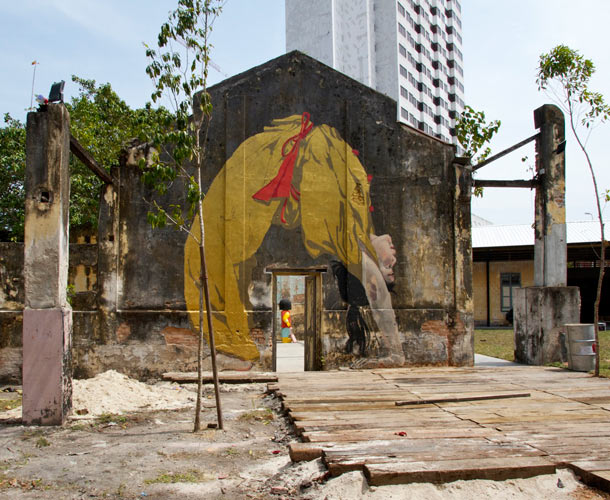 Lithuanian artist Ernest Zacharevic, who is well-known for transforming the streets of Penang with light-hearted, iconic murals, has returned to Penang to create more murals for his first ever solo show called "Art is Rubbish/Rubbish is Art." The show opened this past weekend and will be on display through February 14, 2014. Our good friend, Henrik Haven, was there to check it out.
"Penang island, with its heritage and rich blend of cultures, is an artistic inspiration in itself. I have always been fascinated by its culture and history; especially reflected in its textures, old walls and heritage shop houses. " said Zacharevic. The exhibition initiates the opening of a new art space in Penang – held at the privately-owned Old Hin Bus Depot. An abandoned space that still holds layers of history within its walls, the old bus depot has been meticulously renovated to still reflect its stunning 1950's façade and unique features. By turning it into an arts and events space, Zacharevic hopes to bridge the gap between the old and the new Penang through his art.
ART IS RUBBISH IS ART, PENANG from ownlypenang on Vimeo.
The free-admissions solo show, which will be open to the public from 17 January to 14 February 2014, is an ambitious project that highlights broad concepts of recycling – both intellectual and material. Drawing from the concept of 'one man's rubbish is another man's treasure', Zacharevic will unveil never-before-seen artworks, installations and series of murals that serve to evoke a sense of awareness amongst the people about their surroundings, where beauty can be found in unexpected places. 'Art is Rubbish/Rubbish is Art' explores how individuals view their surroundings and deem what is art and what is rubbish in their own eyes.
Zacharevic is working together with paint company Murobond Paints again to promote the right choice of paint for conservation of buildings, as well as continuing the footprints of Mirrors George Town Project that brought the famous bicycle mural to life. Zacharevic will be using Murobond Paints for all his murals showcased during 'Art is Rubbish/Rubbish is Art'.
All photography by Henrik Haven.

http://www.allisamazing.com/
http://www.eohotels.com/