Street Art
Crush Walls 2018: The Invited Artists
August 13, 2018
We're starting to get pretty excited for this year's Crush Walls festival in Denver, CO. Taking place September 3rd through 9th in Denver's RiNo Art District, it's going to be a packed week of art, murals, experiences and more! We will also be bringing a special edition of the Juxtapoz Clubhouse with a curated group of artists during the week-long celebration! Join us for the Crush Walls Opening Party on September 4th, from 7PM to 10PM.
Check out this year's lineup of international and invited artists: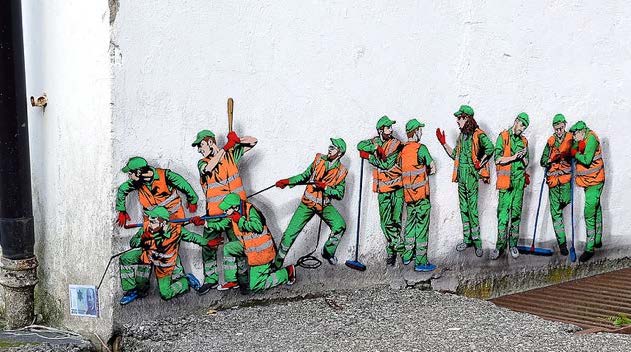 Shepard Fairey (USA)
Born in Charleston, North Carolina, Shephard Fairey, gained international recognition by challenging the borders of fine and pop art. His 1989 "Obey Giant" campaign put him under the spotlight. He describes it as an experiment in how a message deprived of clear motivations can spark meaning. Since then he kept prompting his audience to question power dynamics by a thoughtful choice of contrasting colors and iconic characters. In 2008, his President Obama "Hope" poster, adopted by the campaign as its official emblem, guaranteed him a long-lasting posterity and a place among the cultural giants.
Cryptik (USA)
Based in Southern California, Cryptik draws from diverse eastern traditions, ancient wisdom and what he calls mantradalas to create trance-inducing pieces of art. While his broad approach to creation gives place to a palette of comforting wonders, he manages to tell the story of spiritual universality by making the known and the unknown coexist in peace. Cryptik's mysterious ways found homes throughout the urban landscape of North America, Europe and Asia.
PichiAvo (Spain)
PichiAvo is a duo of Spanish artists hell-bent on provoking a cultural categorization crisis: Their work manifests itself by the reactive fusion of opposite forces, classical Greek sculptures dueling with graffiti and urban expression. The exciting merging of art forms, classical heritage with present practices, unites the delicate and the raw expression, giving birth to their urban poetry. Their work can be seen all over Europe and in the United States where they were commissioned in 2016 to create a mural for the Miami Dolphin's new stadium.
Poni (Mexico)
The gracious work of Poni is an invitation to wonder about our immediate surroundings and the relationships we most closely share. Raised in Mexico City, the multi-disciplinary artist expresses her talent through illustration works, paintings, ceramic sculptures and street art murals. Female characters are omnipresent in her art, radiating airy and natural feelings. Her more abstract work is no different, exploring feminine lines while striking a harmonious balance between gentle colors. Beyond the fragility of her touch lies a great strength hinted by palpable complex emotions and definite peacefulness. Her work adorns the walls of Canada and Mexico as well as the pages of magazines around the globe.

Smithe (Mexico)
Growing up surrounded with urban art in the streets of Mexico City, Smithe picked up his first spray can at 12 years old and never let it go. While recurring themes in his work include the Mexican culture, poignant colors and science-fiction, he believes that his strongest inspiration comes from his father. He vividly remembers how he would consult his bulky encyclopedia of cars illustrated with exploding diagrams. This schematic way of blowing things up to understand their inner workings is certainly the most striking feature of his work. From his beginnings, 20 years ago, he made a name for himself as a graffiti writer and have now participated in some of the most recognized art shows in Germany, Belgium, Spain and England.
Nomad Clan (UK)
Noted as street art's hottest UK talent by Global Street Art, Nomad Clan is the collaborative project of Cbloxx and AYLO, two Manchester based female artists. Their work is strongly influenced by local heritage and imagery, often portraying playful scenes and characters from tales heard at nearby public places. Proudly celebrating local history while underlining present social issues earned them to be featured in Sweden, Marseilles, Belfast and London among others.
Jaune (Belgium)
It's in good humor that Jaune, a Belgian stencil artist and urban interventionist, draws from his past as a sanitation worker, to make visible what is seldom seen existing in the background of every city. Flipping the narrative, his characters, all dressed in high-visibility vests and portrayed in absurdly eye-catching scenarios, seem completely unaware that they are now being watched, revealing their secret life. Lately, Jaune's characters were seen in fluorescent clothing at "POW! WOW! Long Beach", but his work can always be found in galleries and festivals across the United States, Belgium, Canada and Norway.

Roadworth (Canada)
When he started painting the streets of Montreal without permission in 2001, Roadsworth was primarily concerned about the lack of bike paths. Today, the Canadian artist and activist focuses his efforts on urban beautification. Better known for his large surrealist street paintings, Roadsworth is also a muralist, a painter, an installation artist and a music composer. His work interacts with his canvas, integrating its crevasses, air vents and road side paintings, transforming pedestrian crossings into bridges to reconnect neighborhoods. Cities and festivals around the world have commissioned him to transform public space. 14 years after getting arrested for doing what he does best without permission, he is now held in the highest regard in Montreal, as well as Taiwan, Barcelona, Moscow and Santiago, Chile.
Add Fuel (Portugal)
After studying azulejo, a form of tin-glazed ceramic tilework traditional to Portugal, his home country, Add Fuel decided to experiment with the possibilities offered by pattern symmetry and tessellation by introducing it to non-traditional urban settings. His large pieces often produce complex illusions as he challenges his traditional heritage to embrace contemporary vibrancy. His work has been exhibited in France, Switzerland, Norway, the UK and in Tunisia, where he collaborated in 2014 on the Djerbahood project with 150 other beloved artists from 30 countries to completely transform an insular city in dire need of economic rejuvenation.

Laurence Vallières (Canada)
Born in Québec city, Laurence Vallières is famous for her large-scale cardboard sculptures. Often displayed overhanging buildings, her work took a turn after an artist residency in Russia where she appropriated the street art influence. Today, the Canadian artist is recognized internationally for her life-like animal sculptures expressing, with the most disposable material, the impermanence and fragility of nature. Her work is featured around the world, most notably in Berlin, London, Madrid, Hawaii, Miami, Montreal and South Korea.
Stay tuned for artist interviews, photos, and more coverage of Crush Walls 2018! For more information about the festival and linup, visit crushwallsartists2018.com