Street Art
Crush Walls 2018: Poni
August 29, 2018
The gracious work of Poni is an invitation to wonder about our immediate surroundings and the relationships we most closely share. Raised in Mexico City, the multi-disciplinary artist expresses her talent through illustration works, paintings, ceramic sculptures and street art murals. Female characters are omnipresent in her art, radiating airy and natural feelings. Her more abstract work is no different, exploring feminine lines while striking a harmonious balance between gentle colors. Beyond the fragility of her touch lies a great strength hinted by palpable complex emotions and definite peacefulness. Her work adorns the walls of Canada and Mexico as well as the pages of magazines around the globe.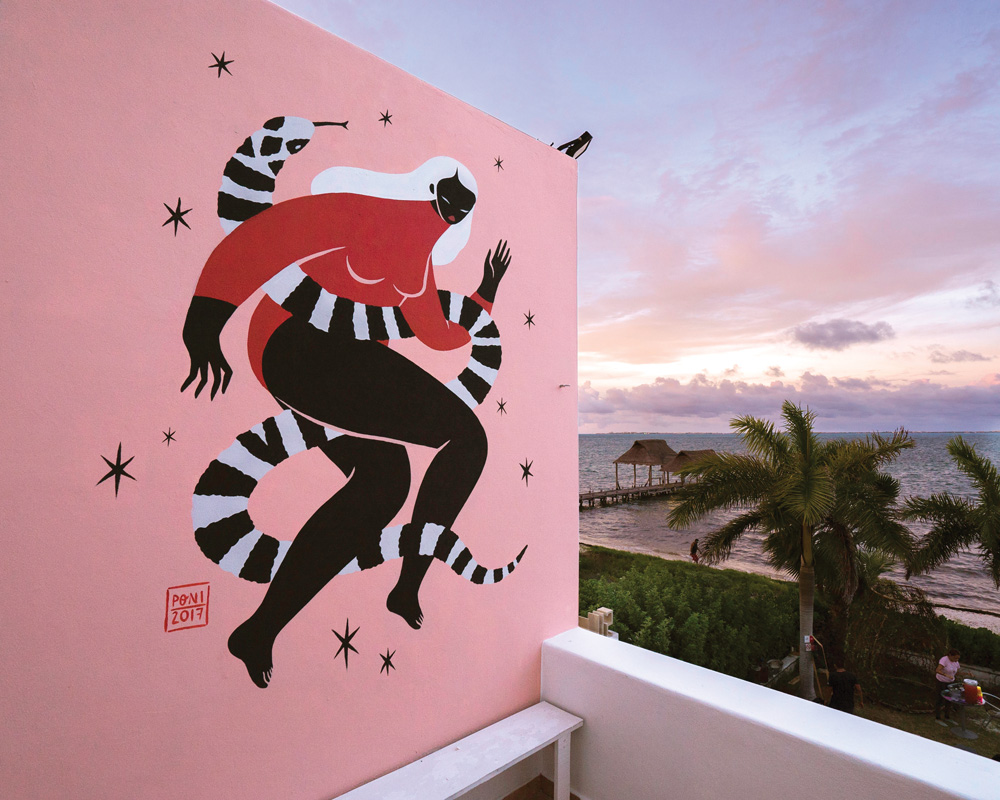 What is your process for painting a mural? How much of it is conceived of beforehand versus improvised on the spot?
Poni: I really like to work with a previous sketch 'cause I enjoy the process of making something small become very big. Sometimes I improvise as well, regularly when I'm about to finish and spot some detail that it's not quite OK or that something is missing once it is on the wall.
Which do you enjoy more, the process of painting a piece or seeing it finished?
Both! Painting is so relaxing for me, and I like to take my time on every piece and it is always thrilling when you get to see something that used to live in your head become a reality.
Outside of your mural for this festival, what are you working on now? Tell us what you're up to!
I'm gonna be painting a couple of walls in San Diego and Montreal after Crush Walls. And there's a possibility of doing an art residency in Tulum in October, which I'm very excited about.
If you could hang out with one person, living or dead, who would that be?
Prince.
----
As part of Crush Walls 2018, we will be bringing the Juxtapoz Clubhouse with a specially-curated group of artists during the week-long celebration!
Join us for the Crush Walls Opening Party on September 4th, from 7 PM to 10 PM.