Juxtapoz
"Still UP Yours on Main Street 2" @ UP Art Studio, Houston
Nov 16, 2013UP Art Studio, Houston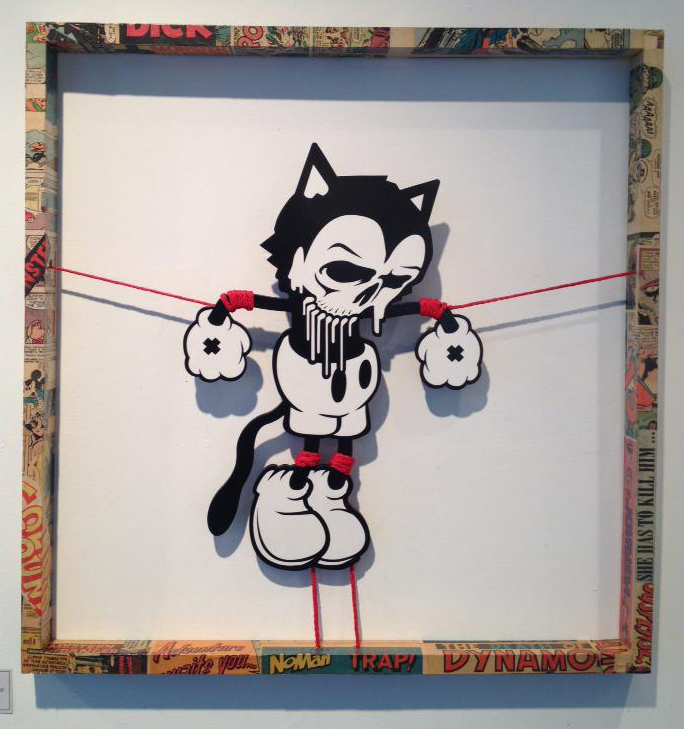 UP Art Studio in Houston, Texas will be celebrating its 1-year anniversary with "Still Up Yours on Main Street 2," a street art group show. The show will showcase international graffiti, street art, and contemporary urban artists from Houston, TX; Chicago IL; Springfield IL; New York, NY; Bristol, England; London England; and Barcelona, Spain. Admission is fre and open to the public.
The opening reception, which is taking place on November 16, 2013 from 1 pm to 10 pm
UP Art Studio
6521 N. Main Street
Houston, Texas
The event will feature: exterior murals, an interior installation by featured artist Sebastien "Mr. D." Boileau, a gallery art show, an art market, a hip-hop DJ showcase by Craig BBC Long and the HHIFE Cypher Session, live performances by Rocky Stedy and the rozzamarano band, free libations from Karbach Brewing Company and Deep Eddy Vodka, food trucks and more!
"Still UP Yours on Main Street 2" is an exhibition of 20 international and Houston based graffiti artists, street artists, and muralists, including: Sebastien "Mr. D." Boileau (Houston/France), 2:12 (Houston), Burn353 (Springfield, IL), Cujo RK (Chicago), Cutthroat (Houston), Diff (England), Dual (Houston), El Pez (Barcelona, Spain), Gape RK (Chicago), Gear (Houston), JPS (Bristol, England), Lee Washington (Houston), Mason Storm (England), Poem FX (NYC), Devo (Tuscon, AZ/Houston), Santiago Paez (Houston), Statik RK (Chicago), Z.A. Casto (Houston), Zen Full (Houston), Zink520 X-Men (Houston/New Jersey)
The show's curator, Noah Quiles, states, "We have had an exciting first year at UP Art Studio. Our mission to feature a highly undervalued genre of artists – including graffiti, aerosol, and street artists – and helping those who want to make the crossover from the street into the fine art world, is coming to fruition. We want to continue to help remove the negative stigma assumed by many that these artists are vandals and spread the message that 'Aerosol Art' is a true and relevant art form. We also continue to endeavor to make an impact on public arts."
Elia Quiles, UP Art Studio's co-owner adds, "our model allows us to hang art in our gallery of a wide range of prices, making the art attainable for people of all types; just as it is accessible in the streets to everyone. We are proud to showcase our own Houston based artists as well as to bring international talent to our city."
The show's featured artist Sebastien "Mr. D." Boileau is a Paris native who grew up painting the streets of Paris as a prolific graffiti artist, and has seen the evolution of the graffiti art movement. After 30 years as an artist, he will, for the first time in his artistic career, create an interior installation that will encompass the entire interior wall surface of the gallery space, and the front elevation of the building from top to bottom. Like UP Art Studio, Mr. D is looking to bridge the gap between fine art and urban art. According to Mr. Quiles, "Mr. D is a first generation graffiti vandal that did western-style graffiti right… the culture, the lifestyle, the stylistics of it."
Mr. D is also the owner and CEO of a highly successful mural company in Houston, which is directly associated with Midtown's recent recognition as a Cultural Arts and Entertainment District, in existence for the past 20 years. Most recently, Mr. D was featured in the Station Museum's "Call it Street Art, Call it Fine Art, Call it What You Know" exhibition, alongside other Houston street artists including Dual and Lee Washington, who are also in "Still UP Yours on Main Street 2".
Numerous national and international artists are also displaying artwork in this show including several from Illinois – Statik, Gape and Cujo from RK Design in Chicago and Burn353 from Spingfield, as well as Poem FX (prolific graffiti writer in NYC since 1979), JPS (Bristol's up-andcoming stencil artist), Mason Storm (controversial and provocative artist from London), and El Pez (a prolific graffiti artist from Barcelona distinguished by an infectious fish character, smiling since 1999).
As a natural extension of contemporary art, graffiti and street art have been a constant art form displayed in the streets locally and abroad, for over 40 years. Since the 2000s, the art form has experienced a resurgence in popularity and has started to garner mainstream support, especially with the ongoing evolution of street art.