Juxtapoz
Sneak Peek: Augustine Kofie's "Working An Angle" @ Known Gallery, LA
May 24, 2012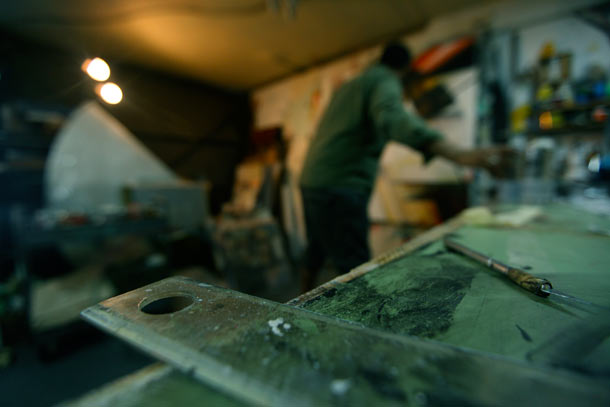 Go back and read Augustine Kofie's
feature in the October 2010 issue,
and he and El Mac have one of the best discussions two artists/friends/collaborators we have had in the magazine over the past few years. That said, we are always excited to see what Kofie's newest architectural-based works will look like, and Todd Mazer stopped by Kofie's studio prior to the artist's solo show,
Working an Angle, at Known Gallery in LA
.
From that previous interview, when El Mac asks Kofie about drawing circles... Kofie responds:
I guess it's really a study in minimalism, a personal expression, like a thumb-print. It's personal to me; it's the distance between my shoulder and my arm. It's a range of shoulder motion. It's an arc of motion in geometry, circumference, rotation, infinity, and a mass amount of things. And it's a retaliation for me. I might be tired of tagging all the time so I want to do something completely bugged out where I know no one would walk by look at a circle and think, "what is that?" It's a bug out. I think that's what I was always been going for.


Plus, they are fun as hell to do. Number 1, they are definitely interesting. Number 2, I've never seen anyone else do it like that. And number 3, they are done with a spray can or a mini roller. Ever since I started doing circles people started sending me this video of a guy in this classroom that does circles on a chalk board. Supposedly there is this world circle championship. I don't know if it's real or not, but I'd like to think that I was the first guy doing it just by itself on the street.


It was one of those things that was an epiphany where you've never seen it before and if you just want to try it. I got a bit addicted to circles.
Working an Angle will features 30+ works including dense collage and assemblage on wood with yardstick framing, paintings on canvas, and hand painted multiples.

Opening May 26, the show will be open for 2 weeks at the Fairfax Avenue Gallery.
All photography by Todd Mazer.
AUGUSTINE KOFIE / WORKING AN ANGLE
Opens: May 26, 2012 | 8-11pm
Runs: May 26 - June 9, 2012
KNOWN Gallery
441 North Fairfax Avenue