Juxtapoz
SFMoMA on the Go: "Gorgeous" @ Asian Art Museum, SF
Jun 20, 2014 - Sep 14, 2014Asian Art Museum, San Francisco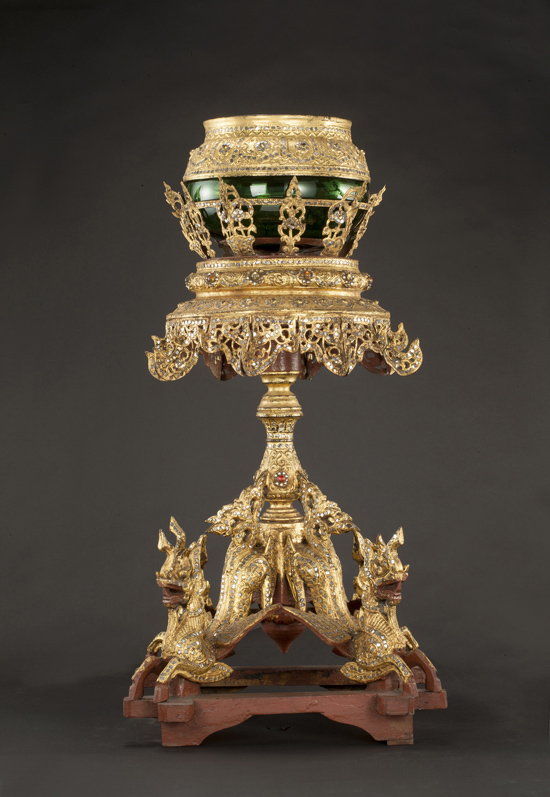 The doors of the SFMOMA are shuttered during the current expansion, but the artwork refuses to be confined and is "On the Go," with dynamic partnerships at local venues. Say Gorgeous aloud, think about what the word elicits, and experience the works grouped with collections from the Asian Art Museum. The exhibition opens on June 20, 2014, and runs through September 14, 2014. We spoke with Allison Harding and Caitlin Haskell of the SFMoMA about their new "On the Go" exhibition...

Gwynned Vitello: Did the physical building housing the Asian art Museum, as well as its contents, dictate how you formed the partnership and selected a theme?
Allison Harding: I've been interested in the history of the Asian Art museum site as one of transitions, first as a city hall, then a library and now as a museum. In bringing iconic artworks into this building, I thought about how this history might shape the ways we experience art. Think of the Gorgeous galleries presenting a "third space" that is neither Asian Art nor SFMOMA, but an amalgam.
Caitlin Haskell: For me, it has also been interesting to think about how the closing of SFMOMA's building allows you to see its works in new contexts—in other gallery spaces, or as parts of other stories. Even if the works are just across town, we see them a little bit differently.



(Marilyn Minter)
As a collaboration and juxtaposition of creative works, how does this exhibition differ from last year's Beyond Belief collaborative exhibition with the Contemporary Jewish Museum?
CH: Each of the museum collaborations in the On the Go program really has its own flavor. Gorgeous is unique because it takes its premise from the possibilities of what can happen when you bring together two strikingly different collections.
AH: When I saw Beyond Belief, my experience of the work I know and love from SFMOMA felt fresh and different in the Contemporary Jewish Museum's space. There was something about these two museums being neighbors that personalized the experience. For Gorgeous, we were challenged with how to bring together art from two neighboring collections with little in common. Both have stunning artworks, so we started there, and began by asking how and why certain art affects us.
From the perspective of a curator, was it somehow freeing to select from an entire collection rather than concentrate on one genre or particular artist?
CH: No one person could be an expert on all of the material in this exhibition. It's just not possible, and that's actually a relief. You don't have to know the objects you're looking at in advance of seeing them, which is so often expected of curators and art historians. You can come to understand the art through the process of looking, and it's very refreshing to break old habits of viewing.
AH: We challenged ourselves not to rely on contextual or conceptual information about the works. We wanted the focus to be on how we experience art—those moments in front of a piece, before you read the label, when you have a visceral reaction to what you see. While it was freeing to explore such a wide variety of artworks and think about them from new perspectives, there is a vulnerability to looking first and thinking about how and why you react as you do.


(Jeff Koons)
The word "gorgeous" has a more physically aural impact than the word "beautiful," which conjures the flowing and ethereal. Can you explain if and how that was intentional?
AH: The choice of Gorgeous as the title was intentional. The works in this show have aspects to them that are pushed beyond conventional beauty into a zone where tensions can be felt. Marilyn Minter's painting, Strut, for example, is not only glamorous, excessive, fetishistic and seductive, but also grotesque, dirty and maybe even dangerous. We might be in a zone beyond the familiar, and thinking in new ways, might acknowledge or rethink our preferences or assumptions. Of course, the reactions and thoughts that artworks provoke are subjective. They're fluid, and what's attractive or repulsive to me will be different from you. Yet most would agree that "gorgeous" is playful and exaggerated, more "over the top" than conventional beauty.
CH: We didn't call the show "Beautiful" or even "Beautiful?" and that was deliberate. I don't think we'd be as interested in putting on those exhibitions. Gorgeous sounds alluring and extreme. It's a powerful title, and the exhibit doesn't shy away from that.
With many objects from the Asian Art Museum being over two thousand years old, are you asking viewers to re-examine the traditional connection of youth and beauty?
AH: That's interesting. I see how, for human beauty, there has traditionally been a connection to youth. For art, however, I think we often see age as a rationale for beauty, like patina or ruins. Old objects connect us to the past, representing bygone ideals that we might strive to attain again. In this show, we're not intentionally setting up a dichotomy of "old" things from the Asian and new from SFMOMA. The objects came from distinct traditions and cultures.
CH: I'd say this is a re-examination of beauty. Or maybe just a chance to start examining how we think about beauty. We're asking people to consider it as they might not have before, putting it into a context where we start to notice its ambiguities and limits. That's radical, whether or not it's a youthful impulse.



(Beatriz Milhazes)
How did you decide on the groupings of art? Did you literally look at your respective collections and take notes?
AH: We walked through each museum and shared responses to works on view. The groupings were the result of a lot of back and forth. As the list took shape, we began to see resonances among objects, some unexpected. While some address the body or the art object, and others are more conceptual, these groups are intentionally fluid and intended to be a starting point for viewers to think about art with fresh eyes.
CH: We've been working on this a long time, and it's a great concept to have in the back of your mind as you go about daily life at the museum. I would come across an object and say to my partner on the show, Janet Bishop, "What do you think about this for the Gorgeous checklist?" Or sometimes having seen a piece in the Asian Art Museum would spark an idea and we'd decide to go view a work in storage.



(Torso of a female deity, 1400–1600. Southern India. Stone. Courtesy of Asian Art Museum, The Avery Brundage Collection)
I doubt you'll declare a favorite, but please try and tell me anyway.
CH: I love so many, but to get off the fence, I'm especially excited to see the Dan Flavin corner piece, something we're showing for the first time since it entered the collection. And from the Asian Art Museum, I've come to love three works particularly: the Mythical Bird-man sculpture from Thailand, the red Qing dynasty lacquered chair and the Han dynasty ceramic figure, all different, and each tremendously affecting.
AH: I'm looking forward to Robert Smithson's Non-site in the same gallery as a set of Japanese screens. Both have a real earthiness. And I've fallen in love with an Indian sculpture of a goddess from the Asian, which will be installed near the Flavin. I've been wondering whether a halo of fluorescent light might interact with her stone surface in unpredictable ways.
How important are the quotations in the catalog and the text adjacent to art groupings in the exhibit to viewing the show? Do you think words give important context to the experience?
CH: I'll let Allison comment on this, since she authored some of these texts, but I see them as more suggestive than definitive. One of the keys to this exhibition is conveying to visitors that the "tombstone" information we put on a label doesn't tell the whole story. We include that, of course, but there's more to these objects than just knowing their maker, the culture they come from, or their intended use. The texts encourage a viewer to engage with the art in a more personal way.
AH: What is gorgeous to me will likely be different from what is gorgeous to you. We wanted the voices in the show to be personal as a way of underscoring the subjective nature, so we signed the labels and focused our writing around how we experience the works. Art historical context is important, but we find that the works in Gorgeous push boundaries and provoke in ways that go beyond the sum of factual information. We hope that this experience of the art will come before the text.
For more information about Gorgeous, visit sfmoma.org