Sculpture
Kyle Montgomery Splices Crystals in Traditional Ceramic Sculptures
July 17, 2017
Australian artist and sculptor Kyle Montgomery has spent the last few years making visually intriguing sculptures, often touching on themes of spirituality, pop culture, and commercialism. Now based in New York, Kyle has been growing an extensive collection of crystalline Virgin Marys and animals, and plans to expand this collection to broaden his view of the world and continue down his own spiritual path.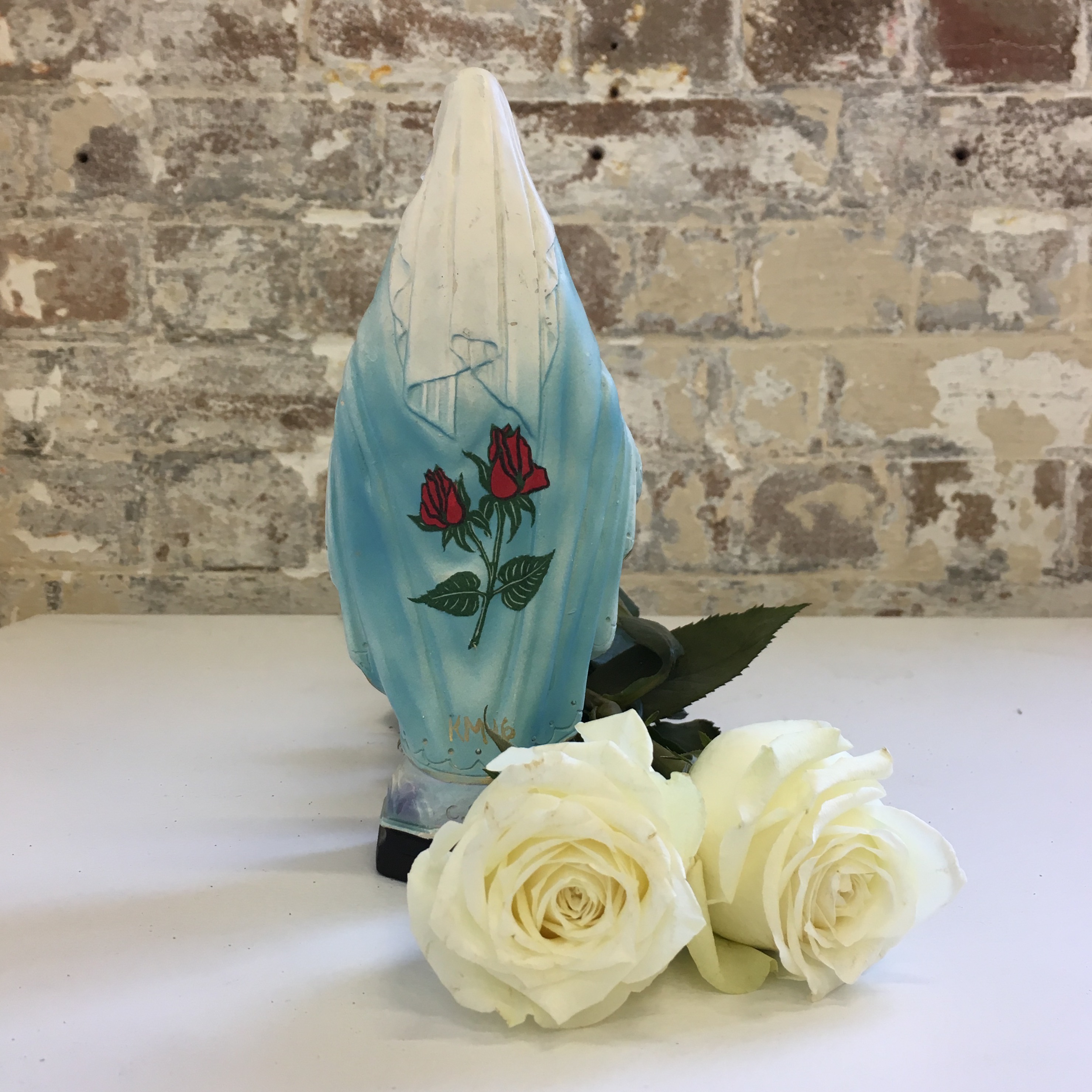 Where are you from? What got you started making art and how did it pick up from there?
I grew up involved in China Heights gallery and studios in Sydney, Australia. Surrounded by artists and other people making and doing things, I started making collages myself. I did that for 5 years and had a few shows in Australia and London then I needed to get physical with it and made 3D versions (sculptures) based on my collage work. I started making crystal Virgin Marys and crystal animals around 2012.
When did you start working with crystals? Did you start with a different medium and pick this up more recently? What sparked that change?
I was doing collage, scalpel, and glue collage. I do a lot of building and working with my hands so I decided to turn my collages into sculpture, and the crystal Virgin Mary and crystal animals is how I interpreted it. I am very inspired by the unknown of the earth and life, the powers and knowledge of crystals, and the guidance of spiritual beliefs towards nirvana and the afterlife.
Have you had any big shows recently, are there any shows on the horizon that you're gearing up for?
Just yesterday was a group show in Montreal at Galerie C.O.A, and next up is The Hammer Museum in LA and then I think Tokyo or Taipei. I'm not sure which order, but I'm excited!
What direction are you going in now with your work?
I will continue making crystal Virgin Mary's and exploring religious iconography. I also hope to sculpt new things that inspire me to continue down my own path.
Thanks Kyle!