Sculpture
Jaime Molina Brings "Cuttytown" to Life
May 30, 2016
We're longtime fans of Denver artist Jaime Molina's textural, soulful paintings, and his recent forays into the third dimension have us charmed by the way his wood-and-steel characters occupy space as living sculptures.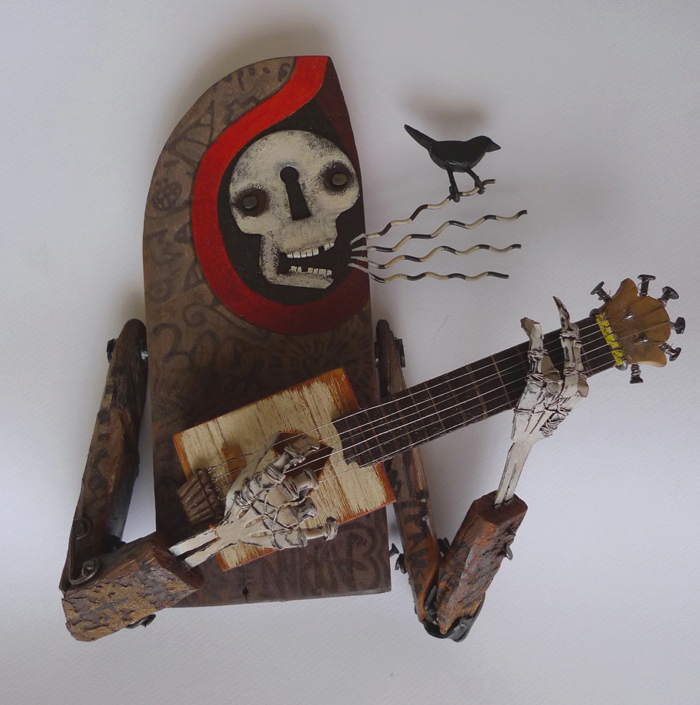 Painter and sculptor Jaime Molina has created a world full of rustic, bearded characters and scallop-textured skull-beings, all inhabitants of a fantastical yet melancholic aesthetic. Known as "Cuttytown," Molina's world is meant to express a sense of freedom and miscreant jouissance. "They're pretty much free of convention and normal society stuff. They do what they want all the time. They throw paint cans in the fire and watch them explode all over their buddies. They sell bread and use the money to buy wine and then when they run out of wine they make more bread, " says Molina.
In the past few years, Molina has brought the characters of Cuttytown into the third dimension, sculpting beautifully sad-eyed bearded men whose legs dangle from pedestals, and creating rustic hairdos from handfuls of steel nails. These lovely figurines translate seamlessly from his paintings into real life, and we're really enjoying this exploration into a new medium. Molina has recently taken part in such events as a residency at the Children's Museum of Denver, featured work at the LA art show and upcoming shows in Denver and Amsterdam.