Sculpture
George Rocha Gives Life to Concrete, Wood, and Recycled Skateboards
December 01, 2017
George Rocha is a San Francisco-based sculptor who builds furniture, surfboards, tables, and more, by recycling, gluing together, and sanding down old skate decks, under his moniker and company Iris Skateboards. However, his sculpting isn't limited to recycled skateboards, George has also been a professional skatepark builder for two decades, building skateparks all around the world; from huge public skate installations in parks, to DIY quarterpipes in abandoned basketball courts. Recently, he also made a collaborative sculpture with Thomas Campbell for Campbell's show We Are The Cosmos at Chandran Gallery, showcasing George's ability to navigate the commercial, DIY, and art gallery worlds with ease.––Eben Benson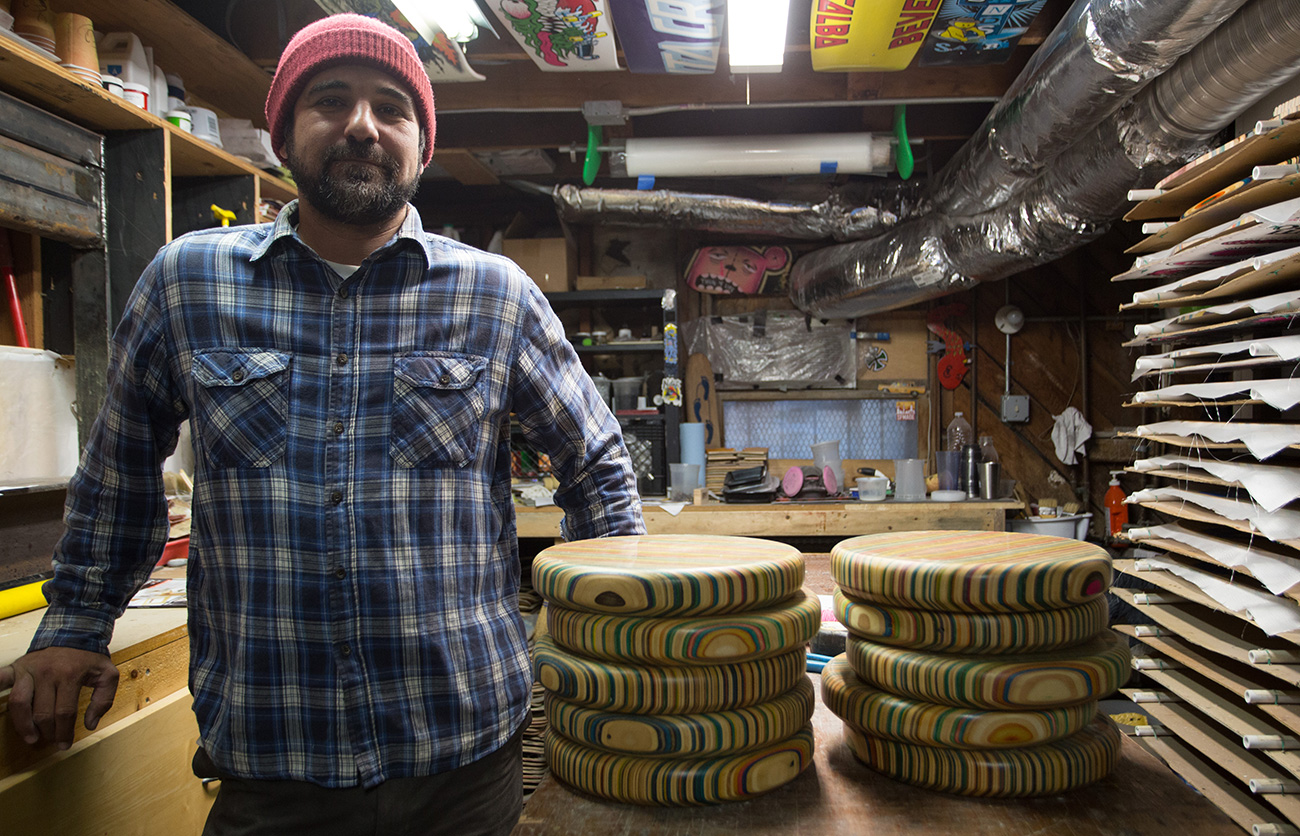 Eben Benson: When did you start making the sculptures you make? Did you originally make other sculptures and incorporated skateboards after?
George Rocha: I have done sculptures with wood and concrete before. Especially if you consider skateparks to be sculptures, which I do. I started working with recycled skateboards after being inspired by the artist Hiroshi. I made a few personal sculptures and then transitioned into making skateboards, surfboards, tables, screen print squeegees and other things out of used decks.
What's your history with building? I know you're a master with concrete, where did this originate? How did growing up in New England influence your craft?
There weren't many skateparks in New England in the 80's so we had to build our own ramps. In the beginning I learned a lot about construction by doing it. Then I started getting gigs wherever a concrete or wooden skatepark was being built until it eventually became my full-time job. Ive been building skateparks for 20 years now and it has taken me all over the world. It taught me how to work with different tools and materials, which is useful when working with recycled skateboards. Its a combination of skilled technique and improvisation.
How did your collaboration with Thomas Campbell come about?
Ive known Thomas through skating for about 5 years and we've done a few projects together in the past. One day he came to visit the shop with an idea for an abstract piece, that he envisioned, to be made using recycled decks. That was how our collaboration that showed in Chandran Gallery got started.
Have you worked with other skate companies before? Or has it been Iris since day one?
Ive built skateparks for other skate companies before but Ive never made skateboards till I started Iris.
How much time do you put into your average sculpture?
Whether I'm making a sculpture, skateboards or another recycled skateboard product, I spend countless hours peeling grip, prepping and gluing used boards for their next life. Its a constant cycle, but I love it.
Do you show your pieces in galleries ever? If so, do you have any shows coming up?
I currently have a piece up at the Nowheresville Gallery in SF. There's a couple shows in the works that Im excited about, but they are still in the making.
Thanks George!
All Images courtesy of Rey Romero