Sculpture
Dan Lam Opens Her New Show "Bait" in San Francisco
Oct 07, 2017 - Oct 28, 2017Spoke Art, San Francisco
Spoke SF is pleased to present Bait, a solo exhibition by Dallas-based sculptor and painter Dan Lam. Continuing her exploration of color and form, this latest body of work expounds on the artist's conversation with her medium and interest in the relationships between her sculptures. Experimenting with new materials and layers, Lam's latest pieces have evolved from singular organisms to colonies interacting and revealing their anatomy. Moving across and with each other, the sculptures in Bait evoke science fiction creatures in a visceral state between consumption and consummation. Scroll down to read an interview with Dan Lam by Dasha Matsuura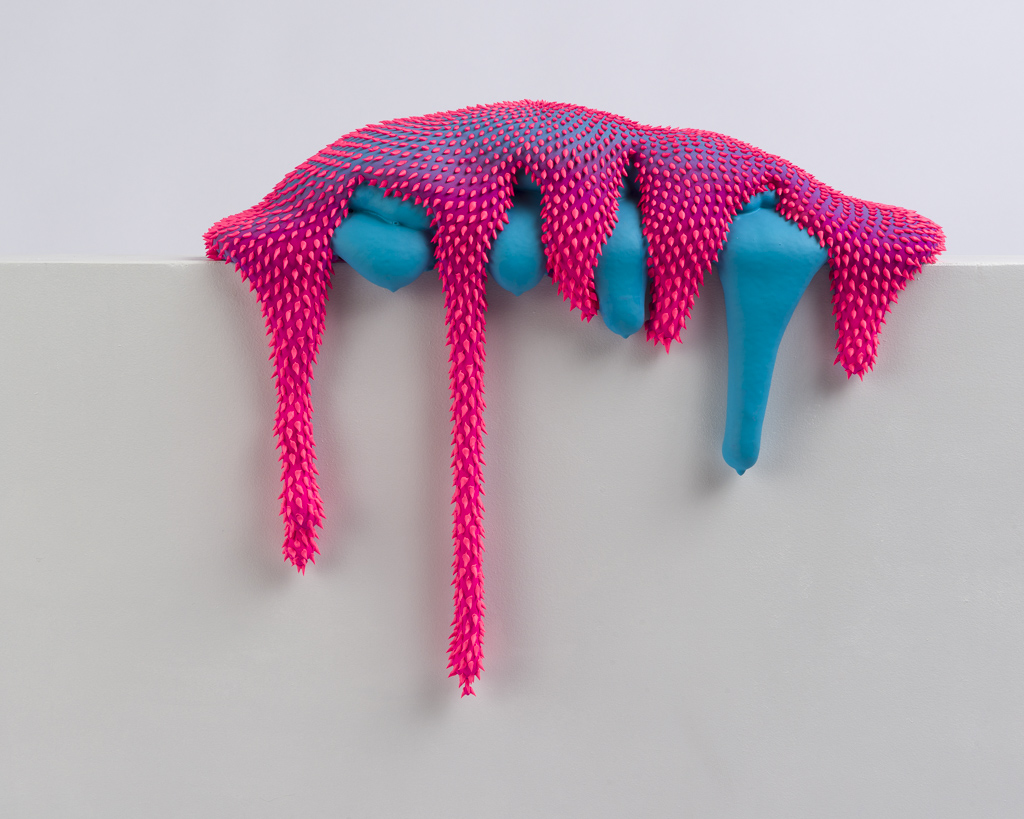 Dasha Matsuura: How do you feel the work has grown/changed with this body of work? What were your inspirations/beginning thoughts for the show?
Dan Lam: My work really is incremental. My process involves a lot of experimentation and building upon itself, making a mistake here, discovering something there, and applying it to the next series of pieces. In this body of work, the drips have "grown" more, I see them as maturing.

I have drips that are layered on top of other drips, they're interacting directly with each other now, whereas before they were their own sculpture, placed near or next to each other for a more passive dialogue. I'm also pushing my colors into more extreme directions, playing with color interaction in a more direct way, playing with the viewers eyes. I've also produced some new blobs, which are "revealing" their insides, again playing with the viewer and their expectations.
Have all of your recent residencies influenced the form of the work or how you approach making?
My residency has allowed me to think in bigger ways, think about space and how my work lives in that space in a different way. I'm not super comfortable with the scale yet, but I enjoy being out of my comfort zone. It's also allowed me to be take larger experimental risks since there's not the expectation of a "final product". I'm beginning to be able to wrap my head around a site specific installation, which is something that I've been wanting to move towards for a while now.
Scale is something you've been playing with a lot in your work lately. What would be your dream project or what is next on your list of challenges to tackle with the work?
My goal for next year is to approach site specific installation. I'm not sure how it will work yet, but I kind of see it like I have pieces to this puzzle and right now I'm collecting pieces. Hopefully next year all those pieces will come together to make a whole world the viewer can be immersed in. I'll probably start small though! Maybe a corner of the studio or something. I'm also wanting to make a hanging sculpture. I'm playing with a technique that I'm hoping will allow me to create some unexpected perspective shifting pieces.
With your painting background, do you think you'll ever move back into two dimensional work?
I actually made a couple of pieces that reveal the panel for this show, but I don't like them! And that was my thinking - maybe I should revisit the 2D surface. But it didn't feel right, so they probably won't be in the show. I don't know if I will move back into 2D work, something about it doesn't quite fit right now. My background is in painting, but I think that 3D comes more naturally to me. While in school I constantly flirted with 3D aspects in my 2D work and once I was out, it's like I was unleashed!
You studied color theory pretty in-depth, other than Albers who/what influences your palette choices?
I tend to look at nature for color influence, but I think a lot of pop culture influences my color palette too. I intentionally try not to directly reference anything, but through the internal filter comes a lot of Lisa Frank-esque colors, black light/neon rave colors, aquatic landscape/sea creature colors, etc.
Pop culture influences your titles a lot, what's your favorite meme?
This guy cracks me up every time!

If you could make a commissioned piece for any celebrity living or dead, who would it be and what would you make for them?
This is a tough question! I want to make a piece for Sarah Silverman - it's not so much for the art, but just because I want to meet her and be BFFs.
Sarah (and everyone else) can catch Bait at Spoke SF October 7 - 28th.
Click here to read another interview with Dan Lam from our September 2017 Issue.