Sculpture
BIANCOSHOCK Makes a Massive Sculpture "B.TOY" for Outdoor Festival 2018, Rome
April 25, 2018
We recently discovered the latest piece from one of our favorite street artists, Biancoshock, done for the 8th edition of Rome's Outdoor Festival. Displaying his work in a Great Labyrinth section of the festival, Biancoshock collaborated on an engaging, interactive and playful piece designed with the Orizzontale group of architects, on a somewhat controversial sculptural piece, B.Toy.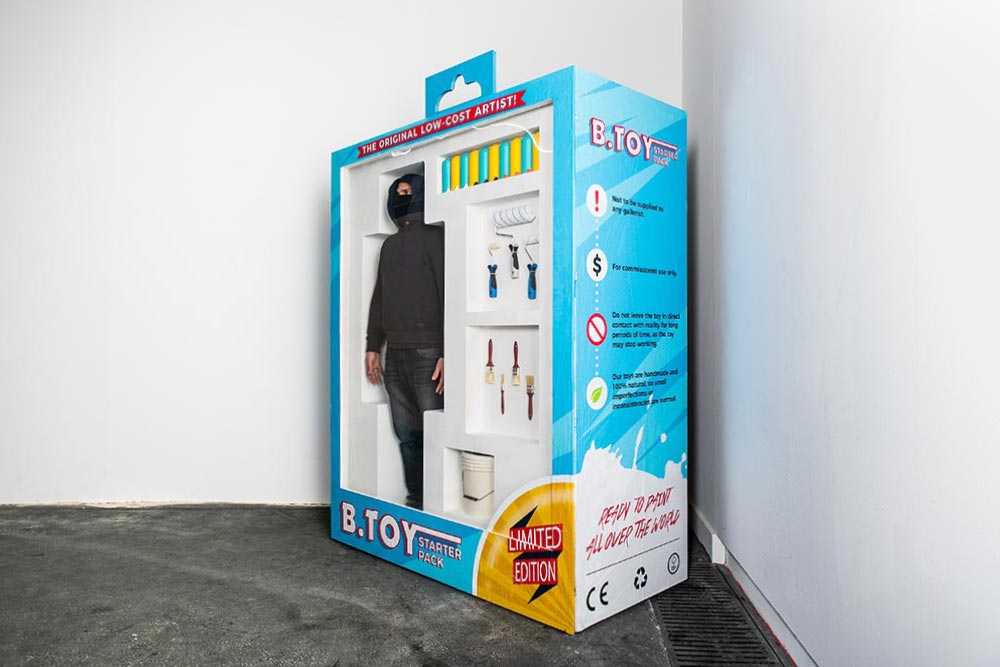 Active for well over a decade, the Italian artist and interventionist has built a reputation as an unpredictable creative, able to tackle any subjects by any means. Showing along such names as Berlin Kidz, Kid Acne, Sam 3, Wasted Rita, Ricky Powell and many more, Biancoshock's piece is a rather ironic commentary piece on the contemporary street art scene. The piece itself presents a "starter kit" of the perfect street artist, armed with a roller, spray cans, bucket and rod. Using the generic aesthetic of a cheap action toy packaging, Biancoshock is addressing the current situation in which young artists are focused on producing work that will appeal to the masses instead of experiment or transmit messages. Similar to trends in other entertainment industries, i.e. music, the artist states that " B.Toy is a self-portrait of an artist who looks at himself in the mirror to remain real, despite the forced approval and likability that success impresses on today's street art." —Sasha Bogojev

See some of our favorite and past works from Biancoshock here.