Sculpture
AJ Fosik will go "From Ripe to Rot" at Library Street Collective in Detroit (Preview)
Aug 19, 2017 - Oct 07, 2017Library Street Collective, Detroit
AJ Fosik's unique layered sculpture work is heading to Detroit, with 25 new works feature golden beheaded beasts, interwoven snakes, and wild, dramatic creatures in From Ripe to Rot, opening at Library Street Collective on August 19, 2017.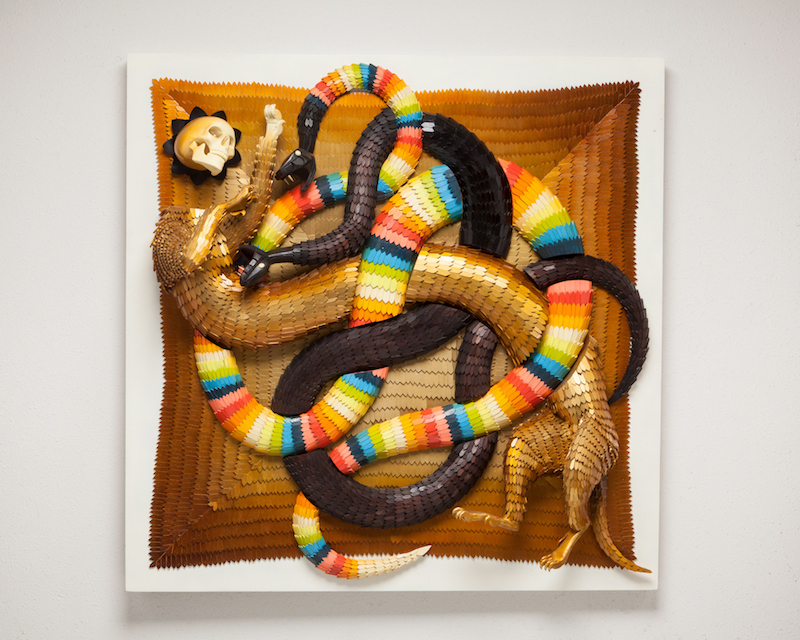 "I think sometimes people mistake my work for the macabre but in fact it is the opposite," Portland, Oregon based sculpture artist AJ Fosik says. "I use imagery tied to the impermanence of being in my work as a celebration of this brief time we have." Whether AJ is macabre or not, his newest show, From Ripe to Rot, has a title that suggests something a bit dark is on the horizon. And in terms of Fosik's career, his talent for three-dimensional wood constructions are not only original and painstakingly detailed, but these works have become more sophisticated in recent years. You could almost say he is ripening with artistic age. Wood pieces, each hand-carved and assembled, creating a 3-dimensional storyboard on a gallery wall, with multiple narratives connecting and moving together atop the sculptural base. For Library Street Collective's space in downtown Detroit, Fosik created a massive body of work: 25 new sculptures to be exact, featuring what he calls golden beheaded beasts, interwoven snakes, and wild, dramatic creatures. Perhaps more importantly, the show is a bit of a homecoming for the artist. "My family goes back generations in Detroit," he notes, "so this exhibition means a lot to me. Detroit is a special place."
Also, from LSC: "In collaboration with the exhibition at Library Street Collective, Fosik has created an edition of 150 foil-stamped, gold embossed prints entitled, Shadow Project Release for the opening project at Louis Buhl & Co., a new Detroit-based contemporary art gallery and project space highlighting emerging and mid-career artists. The edition is available HERE."
AJ FOSIK: FROM RIPE TO ROT will be on view at Library Street Collective Detroit from August 19 - October 7, 2017, with an artist reception held on August 19 from 6-8 PM.
Photos by Stephen Funk