Juxtapoz
SANER "The Madness of an Unknown Man" @ Museum of Contemporary Art, San Luis Potosí
Jun 20, 2014 - Sep 21, 2014Museum of Contemporary Art, San Luis Potosí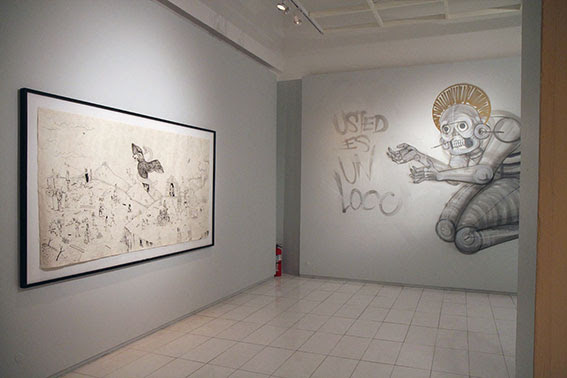 Last week (Friday, June 20th, 2014) the Museum of Contemporary Art in San Luis Potosí presented the exhibit LA LOCURA DE UN HOMBRE DESCONOCIDO (The madness of an unknown man) the first solo show of the Mexican artist Edgar Nández SANER. In this exhibition the Mexican artist reinterprets the concept of madness as a metaphor of disengagement. The madman leaps into de void trying to reach his true destiny by setting free of the ideology of the system. The unknown crazy man is the artist himself ceasing to be unknown and encouraging the spectators to release their own madness.
This exhibition presents more than 25 pieces of work of ink on paper, acrylic on canvas, video mapping and murals divided into three spaces. The journey begins when you enter the first room with a phrase on the wall that says "you are crazy" followed by a series of ink and canvas artwork that portray scenes of a corrupted system and inquires the present times.
In the second room, the main composition is a giant mural in a red background with a ship full of masked figures and characters resembling the renaissance concept of the Ship of Fools, in which the spectator is invited to go aboard ship with the rest of the castaways and miss offshore.
The closing piece of the exhibit is an acrylic on canvas titled "The Navigatos". In words of the artist SANER "in the end you never know if you have really left or if you just have arrived. Did we got out? or didn't we? The viewers must decide what they want to get from the exhibition.

The exhibition is open through September 21, 2014.