Juxtapoz
Ryan Travis Christian "Well, Here We Aren't Again" @ CAM Raleigh
Feb 20, 2013 - Jun 17, 2013CAM Raleigh, Raleigh, North Carolina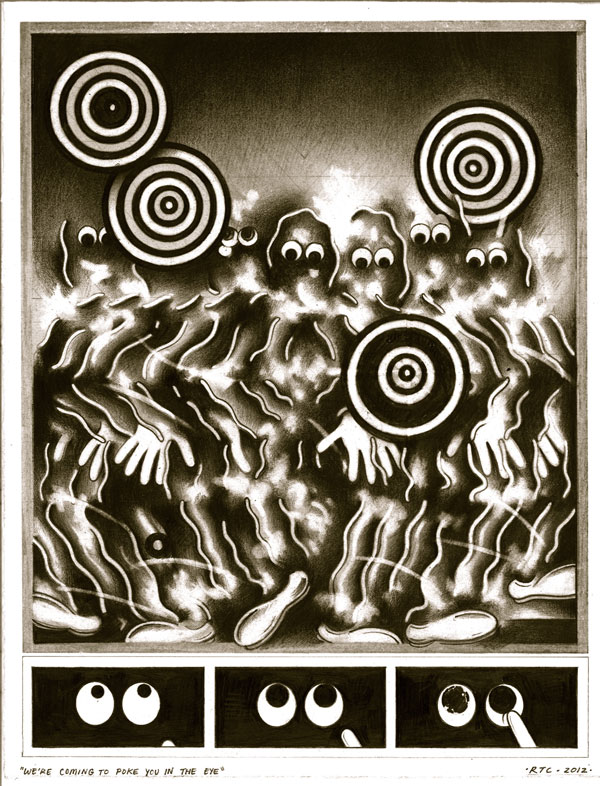 Ryan Travis Christian, who we featured in the January 2013 issue, just opened a brand new exhibition, Well, Here We Aren't Again, at CAM Raleigh in North Carolina. In his twisted, humorous, surreal early Disney inspired works, Christian has really captured a lot of attention in recent years for both his works and talent as a curator. The work is on display through June 17, 2013.

CAM Raleigh presents a major exhibition of artworks by Ryan Travis Christian, titled Well, Here We Aren't Again. For his first museum exhibition, Christian spent three weeks on site creating a large-scale wall drawing, sculptures and floor installation specifically for CAM Raleigh's Independent Weekly Gallery. Christian is a Chicago-area artist who works primarily with graphite and ink. His images are constructed using abstract elements, comic utilities, and old fashion cartoon iconography.

Ryan Travis Christian's drawings are full of motion, explosions, eye-bulges, jazz hands, frenetic patterns and formal gymnastics worthy of a Futurist's kaleidoscopic vision of a speeding, pulsating humanity. Like the Futurists and the Cubists before him, Christian is concerned with picturing time and space as fractured and multidimensional—characters bounce back to life no matter how absurd the violence.


This warping of mortality informs Ryan Travis Christian's artworks. His chiaroscuro graphite drawings recall the black and white Disney cartoons of the 1920s. In nodding to early Disney animation, Christian fills in his characters with the cultural politics of that era. The hugely influential Disney animator Ub Iwerks emigrated from Germany to the US and gave life to Mickey. Iwerks was responsible for defining the Disney style and developed it simultaneous to German Expressionism. Christian borrows freely from the campy horror of Iwerks' cult classic, where a graveyard is a playground for death to rattle out its funeral song. Here, humor is horror in disguise. Christian's zigzag patterns and over-crowded compositions engulf the viewer and create a new visual vocabulary. Christian is informed by contemporary artists such as Arturo Herrera and Kenny Scharf's psychedelic monsters. Christian deconstructs the Disney fantasy lifestyle with cartoon icons and erases their iconic identity features.




Ryan Travis Christian
Well, Here We Aren't Again
Through June 17, 2013
CAM Raleigh
Raleigh, North Carolina