Juxtapoz
Ricky Powell's Chrome Photobomb Messenger Bag
June 09, 2014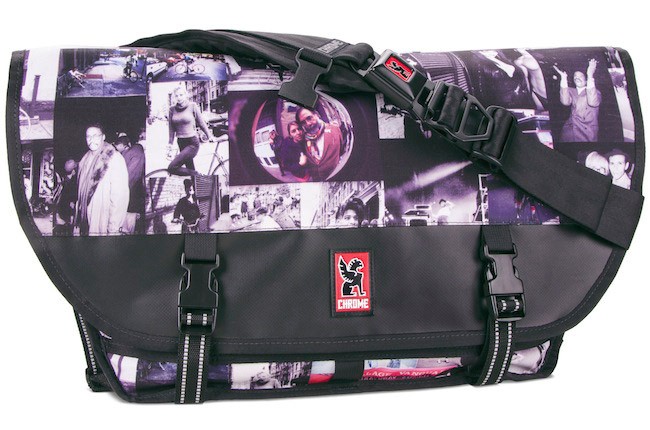 Ricky Powell is the human History Channel. Not only can you sit down and learn about the early days of NYC Hip-hop and graffiti culture, but he'll weave street culture throughout the five boroughs. Chrome teamed up with Powell on this limited edition, made-in-the-USA Citizen Messenger bag, fully illustrated with Ricky's classic photographs. He even asked Chrome to make the inside of the bag his favorite color, purple, the color of royalty. A custom patch based on his iconic hand radio commemorates the project.
For more information about the Chrome Industries "Photobomb Messenger Bag," visit chromeindustries.com
Product Details
After quitting his job at the frozen lemonade stall back in 1985, Ricky Powell, the self-proclaimed ""Lazy Hustler"", took his Minolta AF down the path where celebrity and debauchery meet. From Cindy Crawford in the bathroom to Andy Warhol on the streets of Brooklyn, the born and bred New Yorker is known for his uncanny ability to in the right place at the right time.
Early in his career he worked as a messenger to make ends meet, so Ricky was stoked to bomb our iconic Citizen Messenger Bag with his photos. He requested that we make the inside of the bag purple – the color of royalty and Ricky's favorite color. A custom patch based on Ricky's iconic hand radio is sewn inside each Photobomb Messenger Bag to commemorate this collaboration. We only produced a limited amount of these LTD Messenger Bags and when they're gone, they're gone.
We made our first messenger bag over 15 years ago. We needed a quick-release buckle for getting a fully loaded bag off quickly. We didn't have money to make our own buckle, so we salvaged a seatbelt buckle from the local junkyard and an icon was born. To maximize durability and weather-proofness, every Citizen Messenger Bag is made twice. The inside liner is made with military grade 18 oz. truck tarpaulin. The outside is made with abrasion resistant 1000 denier CORDURA® Brand fabric.