Juxtapoz
Review: NADA New York
May 07, 2012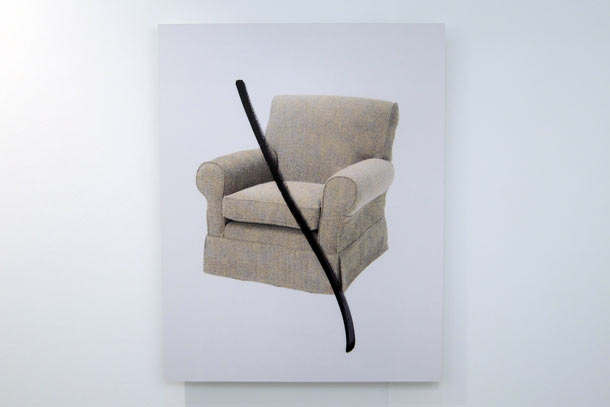 Today is your last chance to check out the
NADA show in NYC,
the the inaugural edition of NADA NYC with over 60 international galleries from 24 cities representing 11 countries. We took a long time walking through the four floors that NADA took up on West 22nd Street, and saw outstanding booths from Alden Projects of NYC, Loyal of Malmo, Sweden, Nanzuka of Tokyo, and Galerie Hussenot of Paris.
We spent a long time in the Alden booth, as the NYC gallery was showcasing some fantastic posters and letterpress prints of some of the most famed names in art over the 75 years, documenting some of their landmark exhibitions. Ellsworth Kelly, Donald Judd, Frank Stella, Warhol, Ed Ruscha to name a few. The Ruscha work, with the famed Dennis Hopper photo on the print, was made in conjunction for one of Ruscha's first shows with the gas station work.
Other highlights included the bizarre, but smart collaboration of Richard Kern's nude photos of girls smoking with Naoto Nakagawa's abstract paintings. Ara Peterson at Loyals' booth were outstanding, and Nanzuka Gallery, Tokyo showed a brilliant architectural set from Hiroki Tsukusa. Martos Gallery's Henry Codax showcase was also a major highlight.
If you are looking for a few hours to spare on your NYC lunch break, NADA should be a top choice on your agenda... the high-walls for each booth allows for a nice visual experience, seen especially with the Martos booth and the slick, narrow booth that Alden curated. And if you are interested in the scenes of Berlin, Malmo, and Rome, this is a great place to spend a few hours.
Richard Kern and Naoto Nakagawa...
Nanzuka of Tokyo, with works by Hiroki Tsukusa and others:
A good one...
What you find in the couch?
1/9sunosunove, Rome:
Loyal, Malmo... these were showstoppers. From a distance they almost appear flat, but close up, the layering looks like rivers pouring through canyons of technicolor.
Agathe Snow at Hussenot in Paris...