Juxtapoz
Recap: ArtMrKT 2012, San Francisco
May 21, 2012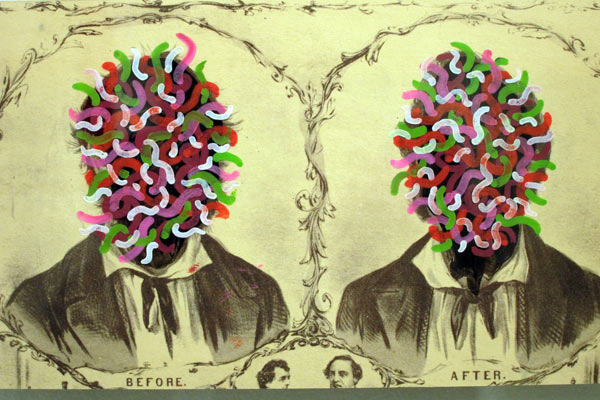 San Francisco was on the art beat this weekend with 3 different art fairs to attend, and Friday afternoon we made our way to
artMRKT,
the most internationally represented fair of the trio. From Park Life, to LeBasee, to Daniel Horowitz' fantastic collection of collage and drawings at Muriel Guepin's booth (detail above), this year's showing was also SF's most eclectic.
LeBasse Projects
had a nice grouping, selecting from recent shows with Jim Houser, and a collection of works from Dave Kinsey that stood out.
Ever Gold Gallery
contiued their wide-array of artists with Mark Mulroney, Adam Parker Smith, and SF favorite, Tahiti Pehrson.
Park Life
, one of the cities best galleries for both well-curated books and art shows, exhibited a few classics from Barry McGee, alongside recent Juxtapoz features Ian Johnson, Brendan Monroe and Evah Fan. And as we mentioned earlier, Daniel Horowitz' work at
Brooklyn-based Muriel Guepin's
booth was some of our favorite in all the fairs in SF this year.
From artMRKT: "artMRKT San Francisco, the Bay Area's premier contemporary and modern art fair will feature 70 highly reputable galleries from around the globe, bringing some of the world's most intriguing artists and galleries to San Francisco. In showcasing historically important work alongside relevant contemporary pieces and projects, artMRKT will create an ideal context for the discovery, exploration and acquisition of art."
Highlights from Park Life, including David Shrigley, Barry McGee, Brendan Monroe, and Ian Johnson
LeBasse Projects, with Jim Houser, Saber, Dave Kinsey...
Ever Gold's eclectic set-up... Adam Parker Smith, Mark Mulroney...
Our favorite work from ARTMRKT may have been the 40+ pieces by Daniel Horowitz at Brooklyn-based Muriel Guepin Gallery's booth...