Juxtapoz
RAUL GONZALEZ "LOS NUEVOS GUERREROS" @ Carroll and Sons, Boston
Jul 17, 2013 - Aug 31, 2013Carroll and Sons, Boston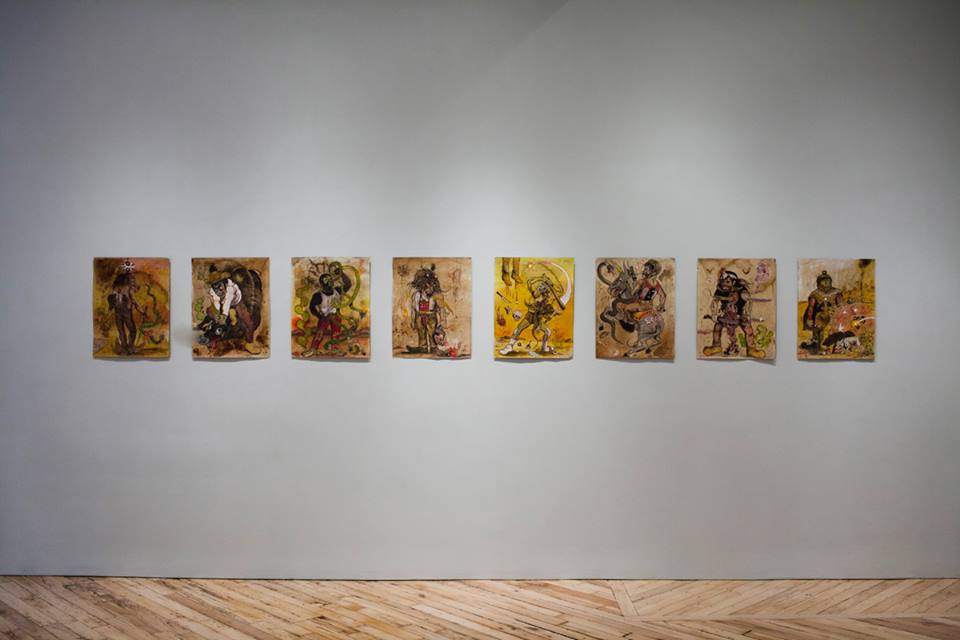 This week in Boston at Carroll and Sons Gallery, a Juxtapoz favorite Raul Gonzalez III opened a brand new exhibition, Los Nuevos Guerreros, featuring some fantastic works on paper. With both a comic and political cartoon bent, the show features the namesake series that Gonzalez has been working on since 2011.

Here is a portion of the interview that Raul and Kristina L. Durocher did on the occasion of the new exhibition... install photos by Tony Luong.

Kristina L. Durocher: Hi Raul, it's great to be talking with you again. I'm so excited to work with you after what seems like a long time in the making. I first encountered your work in November 2009 in your Lookum Here (It Might Could Have Been) exhibition at Carroll and Sons. The response to that show seemed extremely positive. I know it led to other exhibitions, and yet your work now, while similar in technique, addresses different issues entirely. Can you describe that show and what led to the subject of your current drawings?

Raul Gonzalez III: It's incredibly exciting to be working with you as well. Lookum Here (It Might Could Have Been) helped to bring attention to my work and allowed me to expand on those ideas in many exhibitions across the country. The thematic elements and concerns in that series continue to unfold in my newest series Los Nuevos Guerreros which comprises a group of 101 drawings on varying sizes of paper. Having worked at the Museum of Fine Arts, Boston, for ten years as a drawing instructor, my work has been informed by aspects of their encyclopedic collection; from early American Folk Art to their amazing collection of prints and drawings. Lookum Here was created in response to the recently opened American Wing and the near exclusion of the minorities who helped, and continue to help, build the nation. I have always been interested in the marginalized and the outcast and how the media presents them - in comic books, television, movies and newspapers. That series was an exploration of the catastrophic results that occur when you dehumanize a person or group. During the years that I was working on that project, stories about the treatment of prisoners in Guantanamo were filling my head. The ongoing reality of humans dehumanizing other humans was an issue that I explored in those works that took visual form through my drawings of buffalo pelts and cartoon Indians.




KLD: It's interesting that that exhibition, Lookum Here, was for you, a commentary on American history and the perceived absence of art by or about Native Americans in one of Boston's most lauded cultural institutions, and how that, in turn, was analogous to contemporary events of the Global War on Terrorism. You moved from El Paso to Somerville in 2001 for Elaine to study at the School of the Museum of Fine Arts, was that before or after the September 11th attacks? What effects, if any, did that event have on your choice of subjects, or have you always focused on cultural and political themes in your work?

RGIII: We arrived in Boston just two weeks before 9/11 and it had an immediate impact on everyone's lives. My work has always reflected the world that I live in. Current events and the effects of that war on our civil liberties and on those who we were fighting and terrorizing found their way into my work. It is the reason why I have always loved the immediacy of drawing, being able to capture ideas and emotions with simple lines on paper are driving forces for what I do. Artists like Goya and Grosz and their journalistic drawings were early inspirations as were the generation defining comic book stories of Robert Crumb and always Elaine's projects under her many guises.




KLD: For a number of years you have been working collaboratively with Elaine's group the Miracle 5. Was Lookum Here your first one-person gallery exhibition? That exhibition led to a number of other high-profile projects. What elements of the work do you think resonated most with audiences?

RGIII: Lookum Here was my first body of work exhibited in a commercial gallery. Before then I mostly worked collaboratively with the Miracle Five and Elaine Bay. I think that the familiarity of the comic sources of that particular body of work resonated with people and they took comfort in them. The work fills a gap and it does so by using techniques that help to add age and history to the drawings. Coffee stains, tears in the paper and the visible layers of the drawing process give the work the appearance of having existed for a long period of time.

The "Indians" themselves were created using an amalgamation of cartoon characters that anyone would recognize – the features of Popeye, Fred Flintstone, Mickey Mouse, and Looney tune characters are all present in the "Indians" features, there for the viewers dissection. The backgrounds were reminiscent of early westerns directed by John Ford or vistas painted by Frederick Remington, visual references to the American Lexicon.


KLD: In addition to the Western art historical references and comic book characters you mention, you also source non-Western material: Los Nuevos Guerreros is based on a series of 19th century woodblock prints of 101 Samurai by Koniyoshi Utagawa. What appealed to you about those prints? How did you begin the process for the series?

RGIII: When I was a young boy I became obsessed with drawing and in particular I loved to draw superheroes. Early on I never created original drawings but would copy directly from the images I fancied the most. I had a book that I enjoyed copying from more than any other, a copy of the Marvel Universe Handbook. This book had every single character created within the 25-year history of Marvel Comics. Before long I was creating my own characters over the poses of the Marvel characters.

As I was working on projects for the Mills Gallery and Boston University I was reading stories about cartels and their gang members. The gang members had names like El Pretty Boy, El Corta Nalgas, and El Barbie, names that fired up my imagination and I began to sketch versions of these shady characters. About that time, I had taken my students to the Japanese Gallery at the MFA and I started to draw from a Samurai print. Before long I had built my first character using the pose of the Samurai as my foundation. I immediately ran to the bookstore and purchased a copy of 101 Samurai by Koniyoshi Utagawa and started to draw…