Juxtapoz
Preview: QUAKE "26 Years of Hustlin'" @ Zerofriends, Oakland
May 30, 2012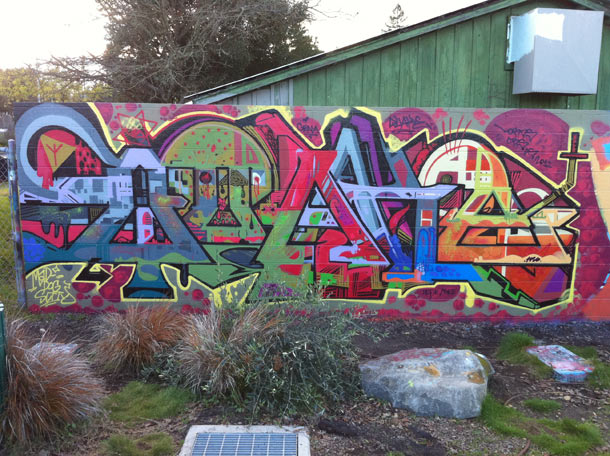 Alex Pardee's Zerofriends presents QUAKE: 26 Years of Hustlin', a giant retrospective of the street artist Quake's "continuous, uncompromising, vibrant pubic art by one of the Bay Area's most prolific and loyal artists," this Thursday, May 31, 2012 at Zerofriends in Oakland. The solo exhibition, on view through June 30, will include hundreds of photos taken around the world of Quake's outdoor work, alongside sketches, relics, prints, and a massive ongoing slide show, celebrating "the insanely colorful career of not only one of our favorites," Zerofriends said, "but one of our own."

Join Quake and Zerofriends for the opening reception on Thursday, May 31, from 7pm to 10pm at 489 25th Street at Telegraph, Oakland, California.
About the Artist:
In 1986, in an unknown locale, an ageless, faceless man was hunted and killed in the arms of a famous Necromancer, who, upon his death, whispered this to the man:
"All colors in your world have different powers when applied in different ways. I will resurrect you eternally on the sole condition that you dedicate every moment to painting as much of our world as possible. With every different color you apply, a different effect will take place in our world. Do not question these changes. With this power, you will alter the world—and stay alive."
At this moment, that dead, faceless man was resurrected and given a name: Quake.
Spending the last 26 years unflinchingly and unquestionably performing exactly the task that he was given, Quake has travelled the globe, leaving his chaotic and beautiful marks in thousands of places with the intention of visually altering the world around him.
Throughout his travels, Quake has found inspirations for his artwork ranging from hip hop and heavy metal cultures, to alien conspiracy groups, Chaos magic, and tribes of train-hopping hobos. Over the course of his art-ventures, Quake has also managed to become not only a leader in the eyes of hundreds of other artists, but also one of the most consistent, prolific, and loyal Bay Area artists to ever hold an aerosol can.
He continues to live out his promise by traveling weekly, staying alive by staying creative, all while co-owning and operating ZEROFRIENDS, an art and apparel company that he started in 2007 with longtime friends and artists Alex Pardee, Darren Scott and Dave Correia.
For more information, visit ZeroFriends.com.

Photo of Quake by Purebred