Juxtapoz
Public Intimacy: Art and Other Ordinary Acts in South Africa
February 28, 2014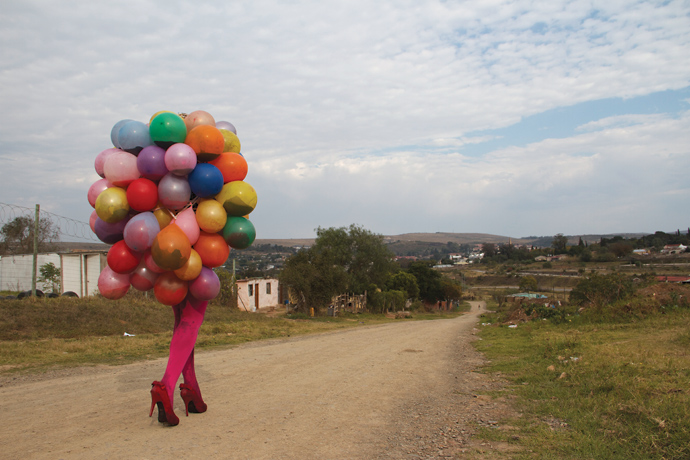 Jointly organized by the
San Francisco Museum of Modern Art
and
Yerba Buena Center for the Arts
(YBCA),
Public Intimacy: Art and Other Ordinary Acts in South Africa
is a fantastic new exhibit on display at YBCA through June 29th. Bringing together 25 artists and collectives who disrupt expected images of a country known through its apartheid history, the exhibition features an arc of artists who look to the intimate encounters of daily life to express the poetics and politics of the "ordinary act," with work primarily from the last five years as well as photographic works that figure as historical precedents. Part of SFMOMA's
On the Go
programming, the exhibition will also coincide with several of the artists interjecting work into San Francisco's landscape, ranging from a
public performance at 24th Street
in the MIssion on March 14th and 15th to a
collaborative intervention in the Public Library
.
For more information visit the
SFMOMA.
The exhibit features: Photography by Ian Berry, Ernest Cole, David Goldblatt, Terry Kurgan, Sabelo Mlangeni, Santu Mofokeng, Billy Monk, Zanele Muholi, Lindeka Qampi, Jo Ractliffe, and Mikhael Subotzky & Patrick Waterhouse
Video works by William Kentridge, Donna Kukama, Anthea Moys, and Berni Searle
Painting and sculpture by Nicholas Hlobo and Penny Siopis
Puppetry by Handspring Puppet Company
Publications, prints, graphic works, and public interventions by Chimurenga, ijusi (Garth Walker), Anton Kannemeyer, and Cameron Platter
Performances by Athi-Patra Ruga, Kemang Wa Lehulere, and Sello Pesa and Vaughn Sadie with Ntsoana Contemporary Dance Theatre
The exhibition joins SFMOMA's important and growing collection of South African photography with YBCA's multidisciplinary purview and continued exploration of the Global South. Significant documentary photography is paired with new photographs and work in other mediums, including video, painting, sculpture, performance, and publications, to reveal the multifaceted nuances of everyday life in a country still undergoing significant change. Coinciding with the 20th anniversary of democracy in South Africa, Public Intimacy looks at the way artists imagine present and future possibilities in South Africa. A new orientation emerges through close-up views of street interactions, portraiture, fashion and costume, unfamiliar public actions, and human imprints on the landscape.