Juxtapoz
Printed Matter's LA Art Book Fair @ The Geffen Contemporary at MOCA
Jan 31, 2014 - Feb 02, 2014MOCA, Los Angeles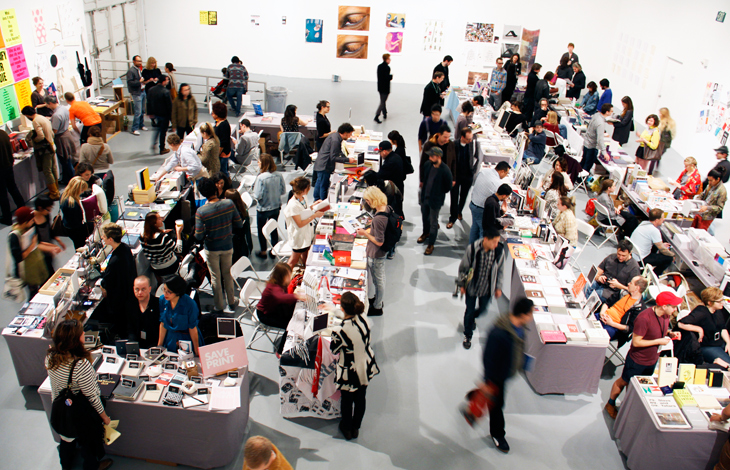 Printed Matter presents the second annual LA Art Book Fair, from January 31 through February 2, 2014, at The Geffen Contemporary at MOCA. An opening will be held on the evening of Thursday, January 30. And did we mention that Juxtapoz will be there with our own booth? Well, we just told you. We can't wait.
Free and open to the public, the LA Art Book Fair is a unique event for artists' books, art catalogs, monographs, periodicals, and zines presented by over 250 international presses, booksellers, antiquarians, artists, and independent publishers.
Featured projects include a Queer Zines Exhibition curated by Philip Aarons and AA Bronson, The Classroom series of talks and lectures curated by David Senior, KCHUNG Radio with live coverage of - and broadcast from - the fair, and a number of special project rooms. In addition, MOCAtv and the LA Art Book Fair team up to bring you a series of curated screenings, panels, and performances by some of our favorite artists and performers, and the CABC comes, for the first time, to the west coast for a one-day conference.
(XE)ROX & PAPER + SCISSORS is a super-sized subsection of the LA Art Book Fair, featuring zinesters from home and abroad, together with the popular Friendly Fire section curated by Printed Matter's Max Schumann, and Fabulousity, an exhibition of ephemera and photographs by Alexis Dibiasio surrounding 80s and 90s New York Club Kid Culture, on the occasion of the recent Fabulousity: A Night You'll Never Forget… Or Remember by Wild Life Press.
The LA ART BOOK FAIR is the companion fair to the NY ART BOOK FAIR, held every fall in New York. 27,000 artists, book buyers, collectors, dealers, curators, independent publishers, and other enthusiasts attended the NY ART BOOK FAIR in 2013.
Printed Matter's LA ART BOOK FAIR 2014
January 31- February 2, 2014
Opening: Thursday, January 30, 2014, 6–9 pm
The Geffen Contemporary at MOCA