Juxtapoz
Preview: Yumiko Kayukawa "Hakuryuu" @ LeBasse Projects, Los Angeles
September 07, 2012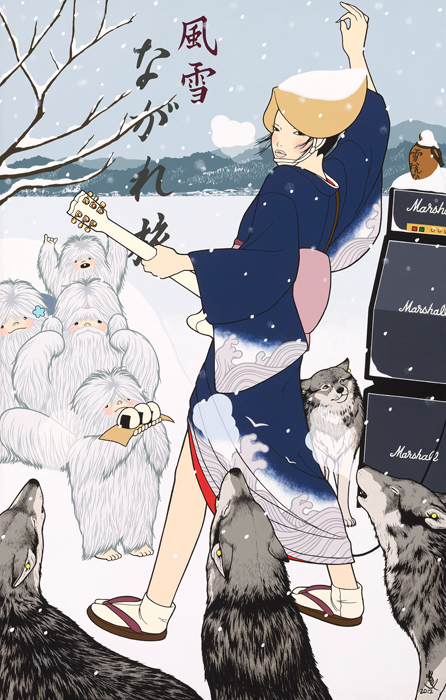 LeBasse Projects is proud to announce 'Hakuryuu – White Dragon,' new works by Yumiko Kayukawa. This anticipated exhibition is Kayukawa's first solo project with LeBasse Projects after appearing in several group exhibitions.
In reaction to the devastating earthquake that hit Japan in 2011, Yumiko Kayukawa explores personal coping mechanisms in the aftermath of an unforgettably painful event. Like many others, Kayukawa finds herself feeling helpless and still grieving for her native country. The show title, 'Hakuryuu – White Dragon' symbolizes an omen of good fortune. It is through the new paintings that the artist pushes themes of optimism and good fortune, hoping it will help send a positive message in the aftermath of such tragedy.
Yumiko Kayukawa grew up in the small town of Naie in Hokkaido, Japan. In this pristine, natural surroundings, she found her love of animals and nature which later became an important theme of her work. Kayukawa has drawn her inspiration from American pop culture such as Rock & Roll, film and fashion. These influences are fused with modern and traditional Japanese motifs to create her unique style.
About Yumiko Kayukawa
Yumiko's debut as an artist was with a Manga feature when she was just 16. She later attended and graduated from Bisen Art School in Sapporo, Japan. Since graduating she has exhibited her work internationally from New York to London and Los Angeles and been featured in several museum exhibitions including The Indianapolis Museum of Contemporary Art, The Civic Museum of Reggio Emilia, Italy and The Portsmouth Museum of Art, NH. She has lived in Seattle, Washington since 2005.
'Hakuryuu'
New works from Yumiko Kayukawa
LBP :: Culver City
September 8th – October 6th, 2012
Artist reception: Saturday, September 8th, 6-9p