Juxtapoz
Preview: TrustoCorp @ The Outsiders, Newcastle
October 04, 2012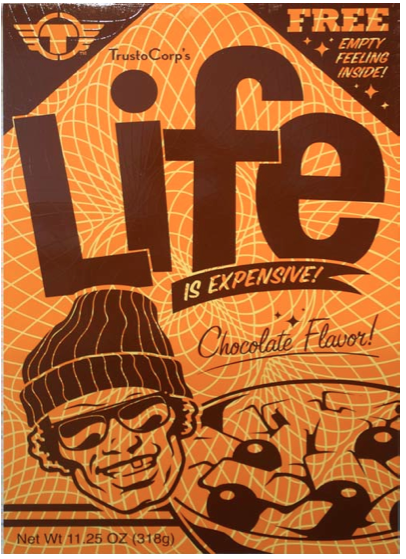 We sat down with one of the key members of TrustoCorp for our November 2012 Politcs & Art Issue, and have always enjoyed their street interventions and political satire. The team will be opening a new exhibition, International Bank of Trusto, at
The Outsiders
in Newcastle on Friday, October 5, and we got a preview.
21st century iconoclasts Trustocorp make their debut outside of the USA at The Outsiders Newcastle gallery this autumn. International Bank of Trustocorp is a landmark interactive show will appeal to anyone interested in contemporary art and future politics.
A paradigm shift in protest art, Trustocorp use a visual language more commonly associated with mainstream media and big business to pursue an insurrectionary agenda. The collective has placed fake products in supermarkets, installed ersatz magazine covers on newsstands and placed subversive street signs across America.
Trustocorp eschew the hackneyed politics of the established left in favour of 'post post-modern' politics that preach self-reliance, self-worth. Their maniefesto especially rejects our fearful, material and hedonistic contemporary society perpetuated by a nanny state and alarmist media.
For 'International Bank of Trustocorp' the accomplished apostates will employ their high production values to transform the gallery into a counterfeit counting house that examines the power of currency.
"We're exploring the power of money in our lives on a local and international level," a Trustocorp spokesperson explains. "From the high power gambling of Wall Street to the broken dreams of 'Main Street USA,' money is simultaneously the root of all evil and the solution to all problems. This show is our take on the global effect of greed and the need for money."
TrustoCorp
The Outsiders
Newcastle, England
Friday 5th of October 2012 to Saturday 10th of November 2012