Juxtapoz
Preview: Tim Biskup "Excavation" @ Antonio Colombo, Milan
September 18, 2012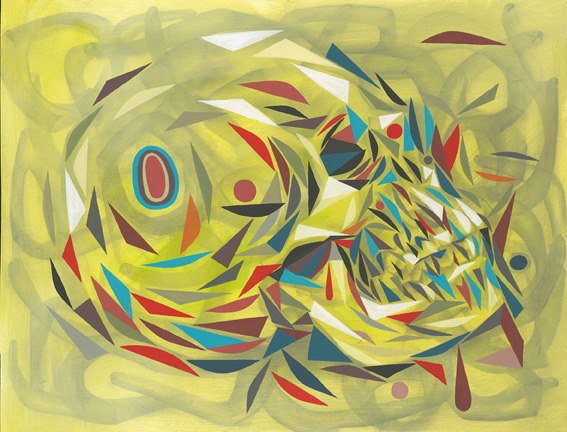 Tim Biskup's exhibition of new paintings opens this Thursday at Antonio Colombo Arte Contemporanea in Milan, Italy. The new body of work began with a series of abstract drawings created in a burst of creative energy. The urge to loosen up came after a visit to MoMA NYC for the William de Kooning retrospective as well as in reaction to the rigid complexity of the work for his Former State exhibition at THIS Gallery in Los Angeles nearly a year ago.

Check out our Studio Visit with Tim from last year.

"Excavation", which takes it's title from a painting by de Kooning, represents a dramatic return to improvised, gestural imagery and a clearly introspective focus. Following the initial catharsis of abstraction, the artist began to find form in the chaos. The first images to emerge were skulls. Perhaps a remnant of the punk rock scene of Biskup's youth, the venture into the tradition of momento mori is nothing new to the artist, who began to number his skull-based paintings in 2008 and gave them the name of "Doom Loops" (A reference to financial strategy jargon for a system which is doomed to fail). There is also trio of portraits of women in various emotional states. This is another nod to de Kooning and his perchent for the subject of women. Though the overall atmosphere of the exhibition is introspective and perhaps a bit dark, there is an air of enthusiasm and joy that pervades the artist's line and palette. Biskup is a Californian, after all and the state's traditional beam of optimistic sunshine cannot help but shine through.
This is Tim Biskup's first solo show in Italy following inclusion in a series of Italian group shows and art fairs.




Tim Biskup
Excavation
September 20—November 17, 2012
Milan, Italy