Juxtapoz
Preview: Tiffany Bozic "Transformation" @ Joshua Liner, NYC
November 01, 2012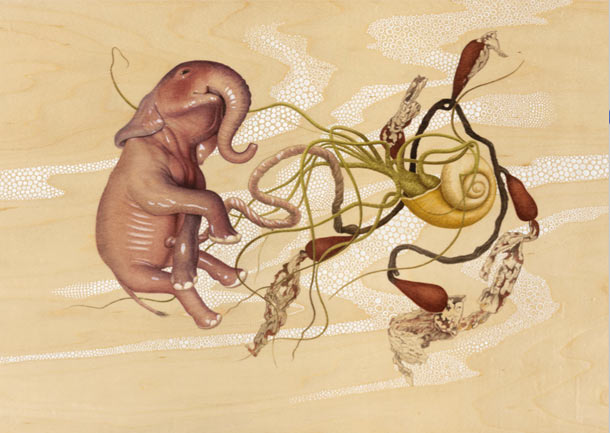 Even though superstorm Sandy has postponed the November 1 opening of
Tiffany Bozic'
s reception for
Transformation
at
Joshua Liner Gallery
, we have a preview of some of the fantastic new works from the Bay Area artist.
Transformation
showcases the artist's meticulous rendering of animal and plant subjects that recasts nature as fable.
In small to medium-sized paintings, Bozic explores themes informed by her personal experience of becoming a mother: "From the shifting perspective of a new mom, I thought a lot about the planet into which I was bringing my daughter. Some of the paintings reflect the sacrifice and transformative changes of pregnancy," says the artist. "I also tried to create an altruistic antidote for the gloomy-hearted in a kind of ecstatic fascination for the natural environment."
This fascination is displayed in This Sweet Old World, a harmonious still life that brings together such disparate elements as flowers, insects, and a resplendent kingfisher. Even more dynamically contrasted, Velvet Mites on a Snowflake depicts nature at wildly different scales while showing off the artist's masterful skills as a painter. Tiny Matter—a light-filled, floating mélange of vegetal tubers, snail, and elephant fetus—reflects quietly and delicately on the gestational period; whereas Oil Slick presents a dark, frenetic tangle of adult grackles whose plumage is rendered in an astonishing range of blues and purples. Says Bozic, "I want to remind the viewer that we live in a playful and mysterious world, breathtaking in its complexity and simplicity, and to celebrate our role as stewards of the planet."
You should also buy Bozic's new book through Gingko Press, Drawn By Instinct. Also, check our January 2011 cover with Bozic here.





Tiffany Bozic
Transfomation
Joshua Liner Gallery
NYC