Juxtapoz
Preview: Robert Bowen "Unnatural Selection" @ Zerofriends
December 05, 2012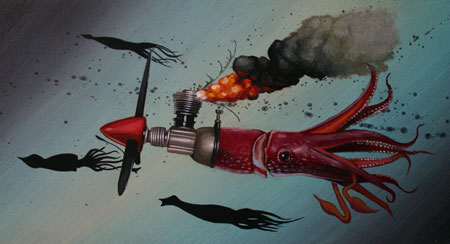 From our good friend
Alex Pardee
and the Zerofriends crew: Time Flys. While it's hard to believe that it's already time to announce a new show at our Oakland Gallery, it's one we're certainly excited about. This Saturday, December 8, longtime friend and painter
Robert Bowen
will be featuring a series of new paintings that differ slightly from his past work.
"This series of paintings is a bit of a departure from some of my pop-culture driven images of the past. (Not to say I won't return to that, but this is where I am at for the moment. I see both plaguing my future.) All the paintings in this show are of an animal nature, depicting birds, insects and sea life, several of which are from my Lucky Strike series that combines animals with mechanical elements or engine parts. There is a certain tragic beauty about these malfunctioning hybrid creatures, and I cannot look away. They are a constant source of inspiration."
Come check it out!
UNNATURAL SELECTION
New works by Robert Bowen
Opening Reception - Saturday, December 8th, 5pm-8pm
ZeroFriends Gallery - 489 A 25th Street, Oakland CA
The First 45 people to show up for the opening reception will receive a free print, signed and numbered by Robert Bowen.
(Only one print per person. You must be in attendance to receive the print.)