Juxtapoz
Preview: Raul Gonzalez @ 808 Gallery, Boston
January 10, 2012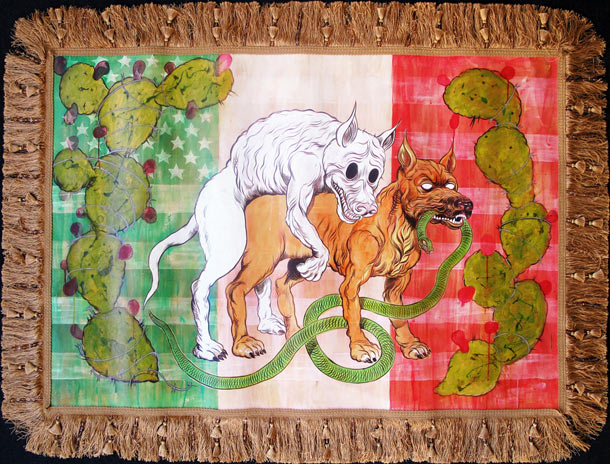 Boston-based Raul Gonzalez, who we have profiled in the magazine before (thanks to Caleb Neelon),will be exhibiting new work at
Boston University's 808 Gallery
this February in The Calender's Tales: Fantasy, Figuration & Representation. The line-up for the show is quite strong as well, featuring former Juxtapoz cover artist Wangechi Mutu as well as David Huffman, Larissa Bates, and Loren Holland. We have a preview of the work that Raul will be showcasing in the gallery below.
All images credited to dieRaul-Raul Gonzalez and Elaine Bay.
The Calender's Tales presents the work of contemporary artists who invent mythological beings, fantastic creatures, allegorical figures, fictional characters, and personal avatars to both humble and heroic proportions in order to critically engage and challenge concepts of otherness. Not exclusively limited to permutations of the racial "other," otherness can also connote in this context alternative states of being or perceptions of the self.
The title takes its inspiration from the book The Arabian Nights, a collection of adult fantasy tales. Through an engagement with pictorial strategies of fantasy and allegory (and also surrealism and mythopoeia mixed with, at times, subversive humor), the exhibition seeks to obscure and illuminate diverse identity formations. These "fictionalized" representations thus inhabit a psychological space that is both alien and familiar.  Expressed broadly and intimately, the works address a range of interconnected issues such as the construction of cultural identity and stereotypes, metamorphoses and transcendence, and consumption and desire.
The Calender's Tales: Fantasy, Figuration & Representation
February 2 – March 31, 2012
Boston University's 808 Gallery