Juxtapoz
Preview: Mel Kadel "Tied Up" @ Merry Karnowsky Gallery, LA
Mar 01, 2014 - Mar 29, 2014Merry Karnowsky Gallery, Los Angeles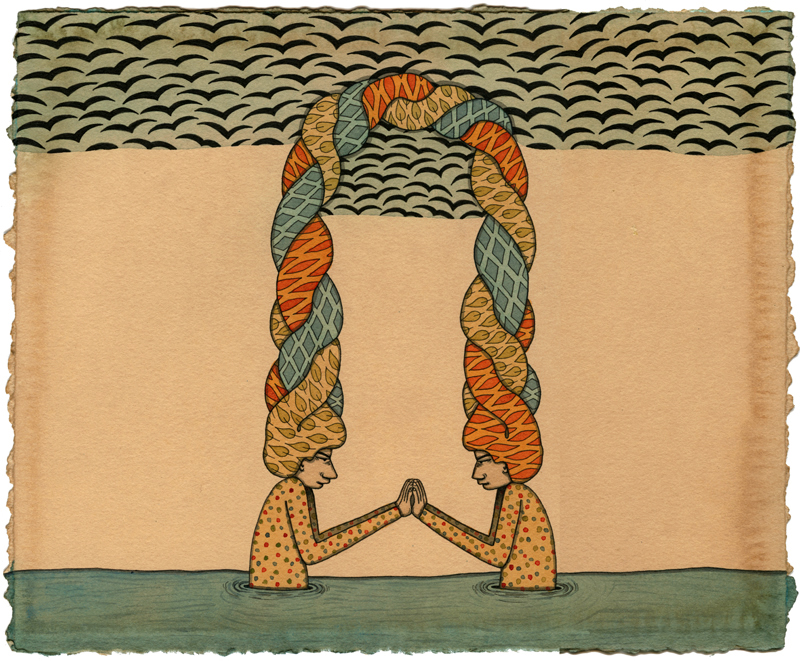 Mel Kadel's beautiful artwork graced the cover of our February 2014 issue, a great way to kick off the year for us. Travis Millard took the helm of the interview and had friends, family, and colleagues interview Mel about her art, process, and career. Now we have a chance to see the new body of work at Merry Karnowsky Gallery this month.

The show is on view now, but an opening reception will be held on Saturday, March 8, 2014. Be sure to check out Mel's contribution to our special surfboard charity auction and benefit.
Merry Karnowsky Gallery is proud to present Mel Kadel's latest solo-exhibition, Tied Up, ink drawings on hand stained paper that record oscillating unease, introspection, and resolve through rhythmic circles, repetitious patterns, and mellow hues of the omnipresent "ties" of the mind.
The spectrum of motion in Kadel's ink drawings posits the various ways we combat and rectify internal and worldy concerns. The colorful coils, inked in Kadel's signature 'eyelash' fine lines, are delicate, yet powerful in every instance with some figures engulfed in seemingly endless entanglement, while other break away from the chaos with ease.
Related to 20th century master illustrators, Kadel's work is dream-like but built up on a firm philosophical framework that exists apart from any strict narrative. Viewing these works is allowing oneself to be entangled in the swirl of Kadel's psyche, emerging enthralled rather than debilitated, by the scope of her imagination.