Juxtapoz
Preview: Meggs "Truth In Myth" @ White Walls, SF
July 14, 2012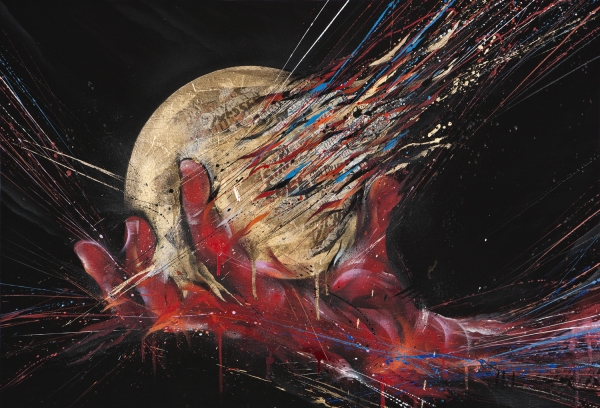 White Walls is pleased to present "Truth in Myth," a solo exhibition from Australian artist Meggs. The opening reception will be Saturday, July 14th, from 7-11pm, and the exhibition is free and open to the public for viewing through August 4th, 2012.
Mythology tells the stories of gods, heroes, humans and supernatural beings as the personification of natural phenomena and more importantly the human condition. In traditional folklore, a myth tells a story that is designed to explain certain ideals, practices and behaviors within society. Following from his interest in superheroes and comic book narratives, Meggs delves deeper into the subject of fantasy to explore characters and stories from older mythological tales through the morals, dualities and emotions that these superhuman characters represent.
Fusing elements of contemporary superheroes to ancient mythological beings, "Truth in Myth" is a collection of new paintings, collage, sculpture and mixed media artworks that expressively reference classic renaissance composition and contemporary pop culture. The layered and detailed works of "Truth in Myth" serve as a continuation of the artist's search for balance in the understanding of physical and ideological duality of self.
"We live in the stories we tell ourselves. In a secular, scientific rational culture lacking in any convincing spiritual leadership, superhero stories speak loudly and boldly to our greatest fears, deepest longings and highest aspirations… the best superhero stories deal directly with mythic elements of the human condition… they help us confront and resolve even the deepest existential crisis. We should listen to what they have to tell us." - Grant Morrison, Supergods, 2011
Growing up in the Eastern suburbs of Melbourne, David 'Meggs' Hooke, immersed himself in the worlds of drawing, cartoons, sci-fi films and skateboarding. In 2000, Meggs graduated from University with a Bachelor of Design and soon after became recognized for stencils and poster art on the streets of Melbourne. In 2004, Meggs became a founding member of the renowned Everfresh Studio a respected and unique collective of street artists known for large amounts of collaborative street work and aerosol murals. In 2010, Meggs art directed and designed Everfresh:Blackbook, a 254 page publication documenting the studio members' lifestyle and artworks from 2004-2010.
Meggs
Truth In Myth
July 14—Augusrt 4, 2012
White Walls
San Francisco, California