Juxtapoz
Preview: Jessica Hess "Fade and Finish" @ Spoke Art, SF
September 05, 2012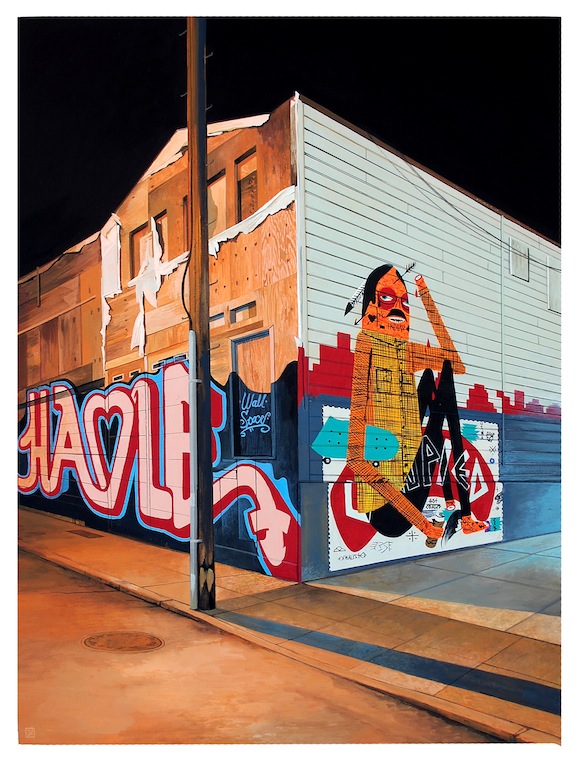 Spoke Art is pleased to present Fade and Finish, a new solo show by San Francisco-based painter Jessica Hess. Following her successful solo show last year at White Walls gallery, and two person show with Kevin Cyr there the year before, Jessica Hess will be debuting a new body of original paintings this September at Spoke Art gallery in San Francisco.
Known for her photorealistic paintings depicting the sprawling graffiti-laden landscape, Hess' work combines traditional and formal technique with contemporary subject matter. The result is a documentarian snapshot of her ever changing environment, a moment of time perfectly captured and recorded in between the flux and constant states of change that are an ingrained aspect of the street art world.
In elevating the observation and celebration of graffiti and street art to a fine art medium, Hess' work delicately balances the more stagnant traditional landscape formula with contemporary urban art, resulting in a compelling body of work that bridges stylistic and generational gaps for a dynamic and contemporary expression of the world around us.

(Here is the video trailer shot by Juxtapoz friend, Shaun Roberts)


Jessica Hess — Fade & Finish from Shaun Roberts on Vimeo.
For "Fade and Finish" Hess has departed from the oil on canvas works for which she has become known, pursuing instead the medium of gouache, a notoriously difficult vehicle which when manipulated properly produces an unparalleled opacity and brilliance. The new body of work is crisp and vibrant, resulting in colors and scenes that pop with a flair of hyper realism.
In addition to her trademark landscapes, "Fade and Finish" also presents the debut of Hess' new body of abstract semi-figurative studies. Culled from her love of vintage radio and film and inspired by a wheat paste originally seen on the streets of New York, Hess' pin up series presents a compelling study of texture, a geological survey of the landscape in which the layers of the street are peeled back to reveal the starlets and icons of a time gone by.
"Fade and Finish" opens Thursday, September 6th at Spoke Art gallery in San Francisco with a reception from 6pm-10pm. The artist will be in attendance, complimenatary refreshments will be served and it is free and open to the public. The show will be on view to the until September 29th and can be viewed online at spoke-art.com
What: Jessica Hess solo show - "Fade and Finish"
When: opening reception - Thursday, September 6th 6pm-10pm
show on view until September 29th
Where: Spoke Art
816 Sutter St.
San Francisco, CA 94109