Juxtapoz
Preview: Gregory Euclide @ David B Smith, Denver
September 14, 2012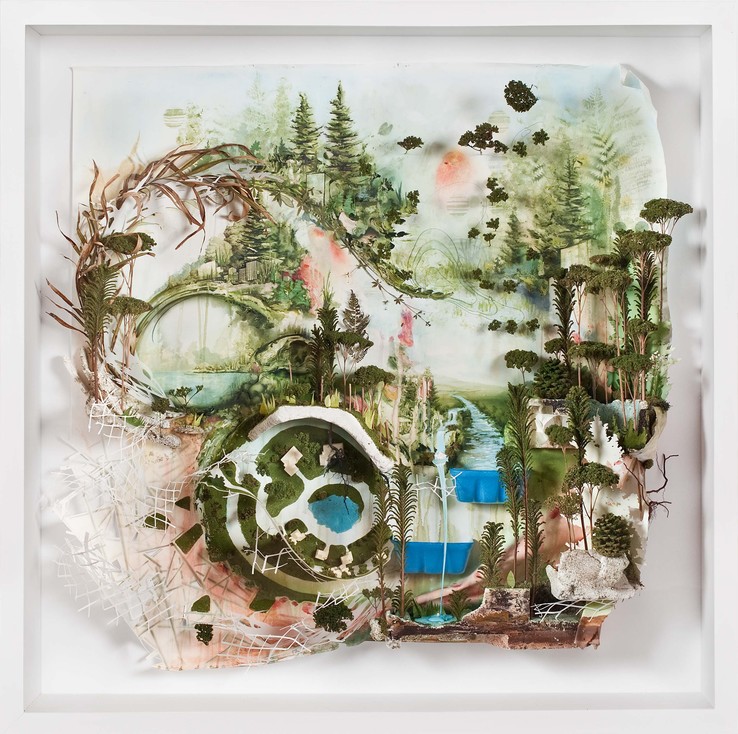 David B. Smith Gallery is pleased to announce an exhibition of new works by artist Gregory Euclide, Observing only the ease of my own slipping toward your unknown. For this exhibition, Euclide expanded upon the scale and visual vocabulary of the works featured in his most recent exhibition at the gallery. The exhibition opens on Saturday, September 15. (Stay tuned for a feature on Euclide in the magazine in the coming months).
Featuring several large-scale square sculptural relief works, this exhibition marks the first time Euclide has returned to a square format since being commissioned by the musical group Bon Iver to create the cover artwork for their 2012 Grammy-winning album. Further distancing this series of work from a horizonbound format, Euclide employs multiple perspective views with his signature sculptural assemblages and circuitous composition
to at once re-define landscape and simultaneously break ground on something completely new.
A keystone of the exhibition, Laid Down & Wiped Slowly Away, is a magnificent temporary painting composed by Euclide on a 48 x 96 inch dry erase board installed in the project room of the gallery. In the spirit of the Laid Down & Wiped Away classroom project released this summer, portions of the painting will be erased throughout the exhibition, until the board is returned to its original state, and this process will be documented on the gallery website.
From magnificent sculptural relief works, to a series of smaller, intimate monoprints conceived on Euclide?s European honeymoon, it is clear that his practice has reached a stirring new moment, both conceptually and aesthetically. Euclide?s work remains infused with the lush overgrowth and references to societal structures from years past, yet his quest for answers (and more questions)—in regard to our place in the natural world, the risks we habitually take by exploiting it, and how these ideas can play across and through materials—has never been more apparent.
Gregory Euclide

Observing only the ease of my own slipping toward your unknown
September 15 - October 13, 2012
David B Smith Gallery
Denver, Colorado