Juxtapoz
Preview: Craola by Ransom & Mitchell for Smoke & Mirrors @ Varnish, SF
September 04, 2012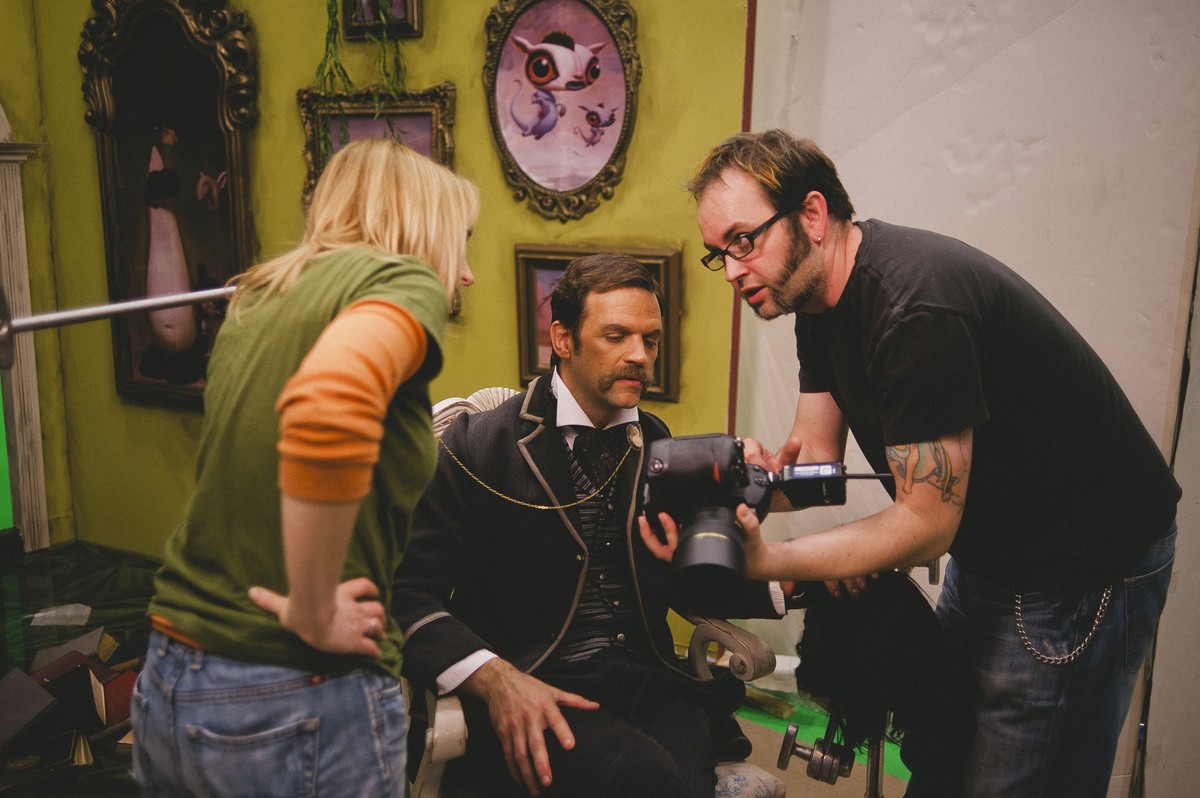 Stacey Ransom & Jason Mitchell's
highly anticipated debut solo show of photo illustration tableaus and portraiture opens at at Varnish Fine Art in San Francisco, Saturday, Sept. 8th. Mitchell, a director-photographer, and Ransom, a set designer and photo-illustrator, create highly-detailed and visually-lush photo illustrations.The duo, who shot Robert Bowen's portrait in our August 2012 issue, sent us an exclusive portrait preview of their work with
Greg "Craola" Simkins
.
They also sent us behind the scenes looks at their shoots with both Craola and Scott Musgrove. All shots of the behind the scenes looks by
Shaun Roberts.
Their work is narrative in nature and draws upon the darker undercurrent that exists within all aspects of society. They aim to create worlds that cannot exist, through a unique combination of cinematic lighting, theatrically-designed sets, and an illustrative approach that is inspired by the Italian and Dutch Master painters. 
In "Smoke & Mirrors," Ransom & Mitchell deftly combine epic scenes of grandeur and lushness with emotional themes that pull on the heart and scratch at the mind. Their highly detailed images are a simultaneous swirl of dreams and nightmares that beg for closer inspection as the artists handily blur the lines between traditional photography and classical painting. In this aptly named show, Ransom & Mitchell use their story-telling and creative technical prowess to challenge the viewer into questioning what is real and what is a metaphor.
"Smoke & Mirrors" presents two unique bodies of work, consisting of fourteen cinematically themed pieces, twenty eight artist portraits and two short films. Ransom & Mitchell will also be creating an installation within Varnish Fine Art gallery that will incorporate one of the major set pieces from their most recent series of work, "Elegant Extraction." A five foot rose with an illuminated center that is rimmed with dagger-like teeth will be suspended above the gallery creating an ominous centerpiece within a strange parlor of beautiful contradiction. 
"We are thrilled at this opportunity to exhibit both our personally derived images and the first series of images in our on-going artist portrait series," said Jason Mitchell. "For both bodies of work, we have strived to push past the boundaries of what seemed possible or even logical, and challenged ourselves to create worlds that are more emotionally and visually grand than are realistically possible. We think our love of science fiction / fantasy and a deep desire to tell hidden stories has been the foundation for us to create passionate works with open-eneded narratives that hopefully provoke conversation." 
When asked what spurred Ransom & Mitchell to begin the artist portrait series, Stacey Ransom said, "At first, we began to shoot portraits of these artists as a fun side project to honor the people we admire. It quickly proved to be an extraordinarily rewarding and stimulating exercise to constantly be able to collaborate with other Creatives who were willing to throw inhibitions out the window and embrace the true nature of storytelling."
ABOUT THE ARTISTS
Ransom & Mitchell is the artistic nom de plume of director-photographer Jason Mitchell and his partner both in business and in life, set designer-photo illustrator, Stacey Ransom. The duo met in San Francisco in 1999 while pursuing their respective careers and first began working together on films in 2004. Their company Purebred is a still + motion production company where, in addition to creating commercial media, they use their filmmaking background to create their highly-stylized narrative photo illustrations.
The artists also believe knowledge, passion and inspiration should never be hoarded and are always appreciative when people they admire share with others. Ransom & Mitchell created a website called Fake Believe that is devoted to sharing behind-the-scenes photos of their shoots and many step-by-step breakdowns of how they do our work. Stacey Ransom is also a passionate proponent of the arts and writes an art blog, Ransom Notes, specializing in thorough features on her favorite artists.
"We feel our wide variety of professional and filmmaking experiences honed our creative vision and gave us the foundation to create our own fine art work. We are fortunate to have a space where we can create our projects, and we are grateful for the collaboration opportunities we have with many Creatives (both in front of and behind the camera). Above all we are both extremely grateful to have a partnership that nourishes our creative sides, as well as our personal lives – we know it is a special relationship, and we never take it for granted." - Stacey Ransom
More information about Ransom & Mitchell can be found at 
http://varnishfineart.com
"Smoke & Mirrors"
Debut solo exhibition of Photo Illustrators, Ransom & Mitchell
Opening reception Saturday September 8th, 2012 from 6:00-9:00pm
On view September 8th - October 27th, 2012
Varnish Fine Art
16 Jessie St., #C120
San Francisco, CA 94105
415-433-4400
http://www.varnishfineart.com
Gallery Hours: Tuesday – Saturday, 11am – 6pm