Juxtapoz
Preview: Cindy Sherman @ San Francisco Museum of Modern Art
July 13, 2012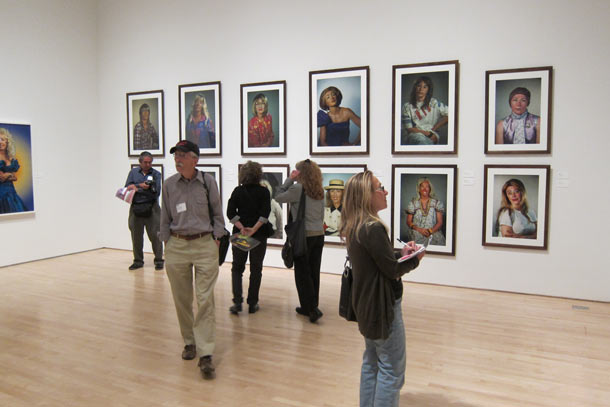 They are questions that I don't like to answer, or even think about, ones I mulled over and over when I visited Cindy Sherman's retrospective at MoMA this past Spring and again when the exhibition was moved to SFMOMA this Summer (opening on Saturday, July 14).. Who is Cindy Sherman? Who is the real Cindy Sherman? I don't like that it even comes up in my head. What she is, on the surface, is a photographer, model, stylist, filmmaker, and wardrobe artist. What Sherman represents upon a closer examination is an embodiment of the time in which she "documents" herself. She is the centerfold of modernity, where in an immersive world of social networking, that abstract notion of self that means you can be whomever you want to be with the simple click of the button.
Of course, Cindy Sherman's layered work is a bit more complex than a social networking metaphor, its feminist implications proclaimed front and center. But I think of the work as ahead of its time and Sherman as a pioneer of perceived selfhood. Are we lucky to live in a time when reality can be tailored to the rest of the world so seamlessly you can convince even yourself of leading a far more interesting life than your "friends"? Cindy Sherman, through the over 150 photographs on display at SFMOMA that span the nearly 40 years of her career, demonstrates the ability to be everything to everyone. She is Hollywood, art history, a man, and a clown. Walking around the exhibition, you begin to relate to the notion that we all kind of want this blurred identity and the chance to just one time reinvent ourselves in a desired vision of self. Who are you? I'm a baseball player! I'm Banksy! I'm Millard Fillmore! Seemingly ridiculous, but the costume party beguiles. People act with a new sense of freedom when hiding behind a new identity. You don't need a Facebook page to relate.
Sherman recently told art critic Kenneth Baker "For the longest time, up until a couple of years ago, I was trying to lose myself in the work, literally and figuratively, so that I would never be recognized. Not just that it wouldn't look like me but that it wouldn't look like any of the other characters I'd done before. Just a few years ago, relaxing about that and not feeling this pressure to hide kind of freed me up." A visit to Sherman's exhibition at SFMOMA shows that the question in my head, "Who is the real Cindy Sherman?", is irrelevant but inevitable, and perhaps I really should we asking, "Who do we want to be today?" —Evan Pricco
From
SFMOMA
:
One of the most influential artists of our time, Cindy Sherman creates provocative artworks that explore wide-ranging issues of identity and representation. Working as her own model, she deftly transforms her appearance using wigs, costumes, makeup, prosthetics, and props to create intriguing tableaux and characters inspired by movies, TV, magazines, and art history. The first major exhibition of Sherman's work ever presented in San Francisco, this retrospective brings together more than 150 photographs made from the mid-1970s to the present.
Cindy Sherman
San Francisco Museum of Modern Art
July 14 through October 7, 2012