Juxtapoz
Preview: Chrissy Angliker @ Knoerle & Baettig, Winterthur, Switzerland
May 08, 2012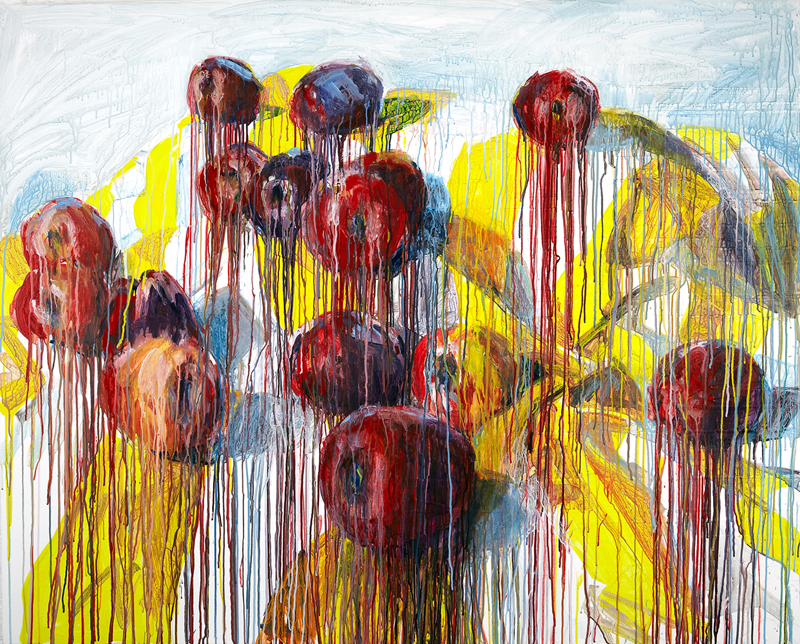 Brooklyn-based, Zurich-born
Chrissy Angliker
is set to open a new series of drip paintings,
Control and Chaos
, at
Knoerle & Baettig Gallery
in Winterthur, Switzerland this Saturday, May 12. As Angliker says of the series, "The focus of this painting style lies in creating a balanced relationship between the controllable and uncontrollable. For every intentional mark, there follows a free-falling drip, challenging it. I am searching for a sense of grace in the transition between these two opposing elements."
Angliker goes on to say about Control and Chaos, "The theme of this exploration arose from me feeling of life itself being a balance between control and chaos. As people, we have intentions, but must anticipate the intervention of outside forces beyond our power. In each subject, extreme opposites are juxtaposed: ugly versus beautiful, sorrow versus elation, order versus disorder. The drips represent the things that exist about a subject that I don't  know enough about to depict. It's the things one senses are there, but doesn't  want to make any assumptions about. The drips physically fill those unknown gaps.
"Every living creature is made up of a unique mixture of opposites; therefore to honestly portray a subject, one must include the dark, the shadowed, in order to highlight the depth and beauty. The finished painting captures the relationship created by me collaborating with gravity. Together with nature I aim to create a whole, and frank representation of the subject."
Chrissy Angliker
Control & Chaos
Opening Show: 12th of May 2012, 17:00
Exhibition: 12th of May – 23dr of June 2012
Knoerle & Baettig
Winterthur, Switzerland