Juxtapoz
Preview: Andrew Schoultz "EX UNO PLURA" @ Eric Firestone Gallery, East Hampton
June 19, 2012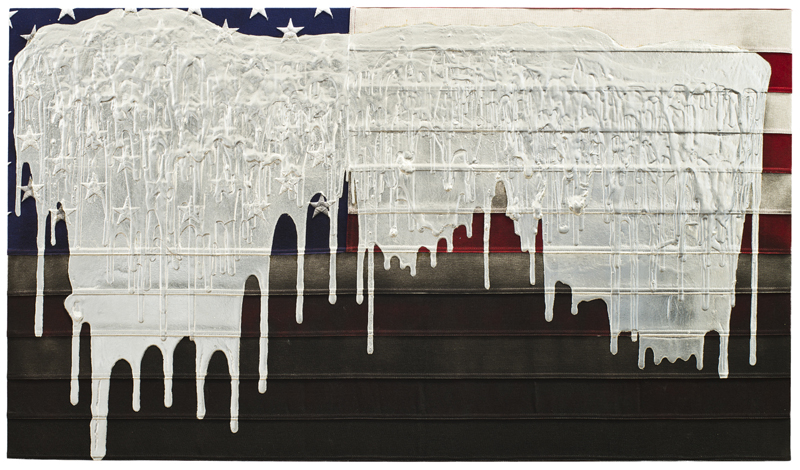 San Francisco-based
Andrew Schoultz
, who was the
cover artist of our March 2012 issue
, will be opening a new solo show,
Ex Uno Plura
, at
Eric Firestone Gallery
in East Hampton, New York on Saturday, June 23, 2012. Hopefully its close to the neighborhood in
Revenge
. The works will include a focus on 
the nature of, and visual commentary on the American flag
. Schoultz will be creating an
installation on a real flag pole outside of the gallery
. He has prepared 32 works, as well as an installation inside the space, for
Ex Uno Plura
.
From Eric Firestone Gallery... (Firestone is one of the organizers and curators of the
Boneyard Project)
.
At Eric Firestone Gallery, Schoultz will mount an exhibition that combines his signature mural painting in a unique installation as well as multiple works focused on the nature of, and visual commentary on the American flag. Applying thick layers of paint atop authentic flags, Schoultz gilds his creations in gold and white gold leaf to stunning effect. In full view of the web of politics, history, and global significance of the flag, this promises to be a provocative show.
Known for labyrinthine installations that defy categorization, Schoultz's oeuvre is one of dizzying cultural commentary that expresses the urgency and perplexities of modern time. Like an optic brainteaser, the final results of a Schoultz endeavor combine graffiti, collage, old world cartography, and medieval script while referencing techniques such as woodcut printing, Ben-Day dots, Arabic calligraphy and the richness of Indian mural painting. Schoultz's work captures the spirit of our world, drawing on the cultural clamor and restless vitality of dissenting voices, political wrangling and galactic alignment.
All photography by Randy Dodson