Juxtapoz
Preview: Amy Casey "Building Toward a Solid Ground" @ Michael Rosenthal. SF
February 21, 2012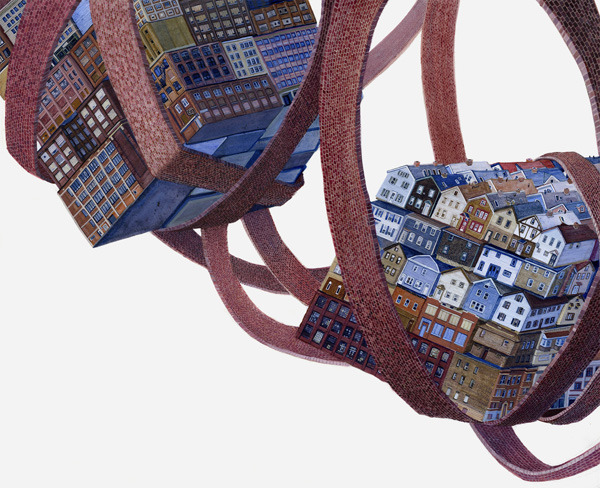 Amy Casey,
who is quickly becoming one of our favorites, will be opening a new body of work,
Building Toward A Solid Ground
, at San Francisco's
Michael Rosenthal Gallery
this Saturday, February 25. Talking about the tiny universes and rows of homes that exist in her acrylic works, Casey says, "I like to think about how communities work -from small towns to a world community - how we depend on each other to create civilization, how we try to find safety within a community and how we can sabotage or save ourselves with good intentions."
Casey goes on to say about her 12 new works, "I think that my previous work was more about things falling apart, and although I am still very much interested in vulnerability, I think more about building and growth when I am working now," she says. "I joke that I am sort of in the brick-house phase of the three little pigs story, moving towards solidity that the earlier paintings didn't usually have."
"While I was using walls and fences to 'protect' the cities before, the cities have in some paintings - especially 'Tower' - or a painting I am still working on (yet to be titled), begun to become sort of like walls and fortresses, banding together. The piling of structures makes many buildings into a solidified unit, but elements of isolation still remain - it would not be easy to get from building to building. I think this reflects my experience of city dwelling sometimes - both crowded and lonesome at the same time."

Amy Casey

Building Toward a Solid Ground
February 25—March 21, 2012
San Francisco, California