Juxtapoz
Preview: Alex Pardee "Tu'Mor or Not Tu'Mor?" @ Cotton Candy Machine, Brooklyn
June 08, 2012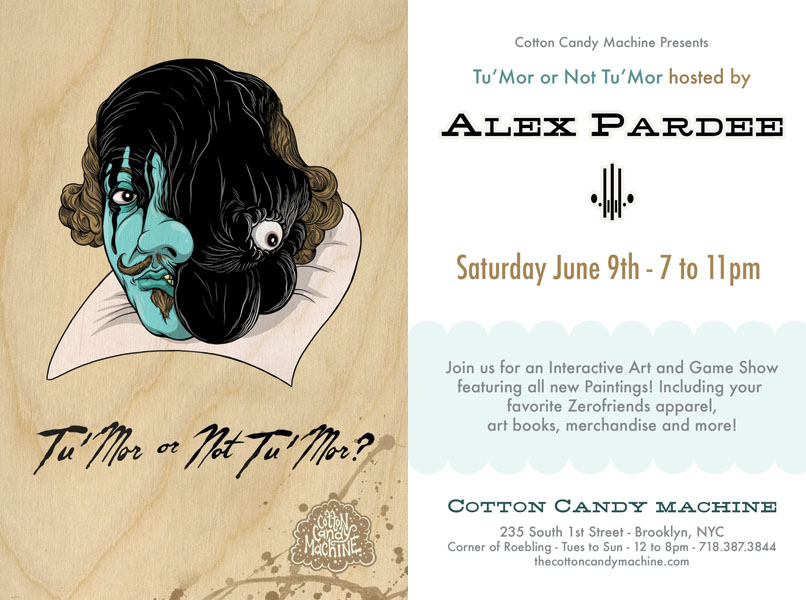 Our very good friend
Alex Pardee,
the former cover artist (and we have something special cooking with him later this year) will be setting up shop at
Cotton Candy Machine
in Brooklyn this Saturday, June 9 to host an art & game sho complete with prizes and all new paintings. We have a preview and video...
From Mr Pardee:
"Around 7:15 on the night of the show, the first 50 people to show up to watch the game will be given a raffle ticket. We will then have a drawing to pick the contestants. There are 14 slots open to play the game. The game is simple: I show you a silhouette, and you have to examine the silhouette and tell me if you think the actual painting behind it features a character WITH a tumor, or WITHOUT a tumor. It's easy."
On top of the new Tumorous or Not Tumorous new paintings, Alex is filling the Cotton Candy Machine with his shirts and prints and setting up a Zerofriends Pop-Up shop in NYC once again. Don't miss this show!

All photos by Chloe Rice
Alex Pardee
"Tu'Mor or Not Tu'Mor?"
Opens Saturday, June 9
Through July 1, 2012
Cotton Candy Machine
Brooklyn, New York