Juxtapoz
Pose, Revok, and Brett Amory @ Jonathan Levine Gallery, NYC
Jun 29, 2013 - Jul 27, 2013Jonathan LeVine Gallery, New York City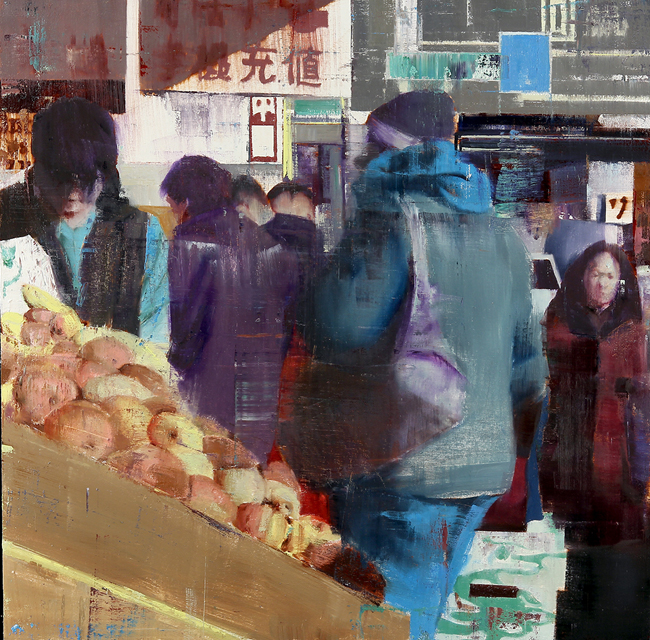 Three artists, two shows, opening this Saturday night, June 29, in NYC at Jonathan LeVine Gallery. First, friend of the magazine, Roger Gastman, is curating Uphill Both Ways, featuring new works from Pose and Revok. Next, Brett Amory will open Twenty-four in New York, featuring a brand new series of paintings from the Oakland-based artist's time spent in NYC.

Pose & Revok: Uphill Both Ways
Jonathan LeVine Gallery is pleased to present Uphill Both Ways, a two-person exhibition curated by Roger Gastman, featuring new works by Chicago-based artist Pose and Detroit-based artist Revok. In conjunction with what will be their first show in New York, the artists will also collaborate on a large-scale mural on the famed Goldman Properties wall located on Houston and Bowery streets, in lower Manhattan.

Although style, medium and techniques vary between the two artists, their work is strongly connected from a conceptual standpoint. The exhibition title Uphill Both Ways (inspired by late graffiti artist NEKST), relates to the battles Pose and Revok have faced personally with legal persecution and loss, as well as general themes of the human struggle on a macro level, one of the common threads in their bodies of work. The artists both draw inspiration directly from their environments and both of their processes involve chopping up various elements and reassembling the slices to form a synthesis of intriguing shapes, forms and textures.
Pose's works reference disparate sources—pop and comic art, skateboard and advertising graphics, collage, sign painting and graffiti. Painting portraits of the human condition, he re-appropriates the visual language of the street and overwhelming experience of consumer culture to convey a broad spectrum of emotions—pain, triumph, joy, fear, love and loss. His fragmented imagery is intended to disarm pretense, making the work universally accessible and open to interpretation. Revok creates abstract geometric panels with vibrant colors and striking patterns using found materials sourced from abandoned homes, schools, businesses and churches—sampling bits and pieces of people's lives, hopes, dreams and aspirations—reinterpreted through rich layers of history, decay and age-worn patina.
Brett Amory: Twenty-four in New York



Following his 2012 exhibition Twenty-Four in San Francisco, Amory spent a month in New York City, researching, photographing and filming various locations throughout the five boroughs to serve as reference material for his new series Twenty-Four in New York. The artist filmed a total of 40 locations, each in a one-hour increment at different times of day and night. Video footage of 24 locations will be projected in a grid of 24 frames in consecutive order beginning and ending with midnight. The hour-long intervals will run simultaneously, representing a full day in the city of New York.
Amory's work portrays abstracted studies of urban life through fragmented cityscapes and anonymous, isolated figures. The exhibition includes twelve paintings documenting different locations throughout the city, some iconic institutions and others of the sadly, rapidly disappearing variety. The artist will also create a site-specific installation around one of the paintings, which incorporates a magazine stand with architectural components.


At each location, Amory collected various found objects to be displayed on a pedestal alongside the painting. Whether lost or discarded, the ephemera relates to the surrounding communities like anthropological findings, lending context to the painted landscapes (ie: Korean cigarette boxes in Flushing, jewelry in the East Village, drug baggies by the Bowery Mission homeless shelter, baby pacifiers in the Hasidic section of Williamsburg). 


Additional locations include: Grand Central Station, The Apollo Theatre in Harlem, Tom's Restaurant on the Upper West Side, Bleeker Bob's Record Store and Webster Hall in the West Village, Ray's Candy Shop in the East Village, Chinatown in Manhattan, Main Street Flushing and the Iron Triangle in Queens, Coney Island in Brooklyn and the Williamsburg Bridge.

Pose & Revok, Brett Amory
June 29—July 27, 2013
Jonathan LeVine Gallery
NYC