Pop Life
The adidas Showcase: A Group Show of Creative Talent From Skateboarding and Beyond
April 18, 2017
At the lastest installment of adidas's Showcase, a series of art shows highlighting creative talent in the world of skateboarding, one of many amazing things to observe was how accessible it was for all ages. Through adidas and skateboarding, a widely eclectic crowd ranging in age, sex, gender, and ethnicity were present at The SoHo Arts Club.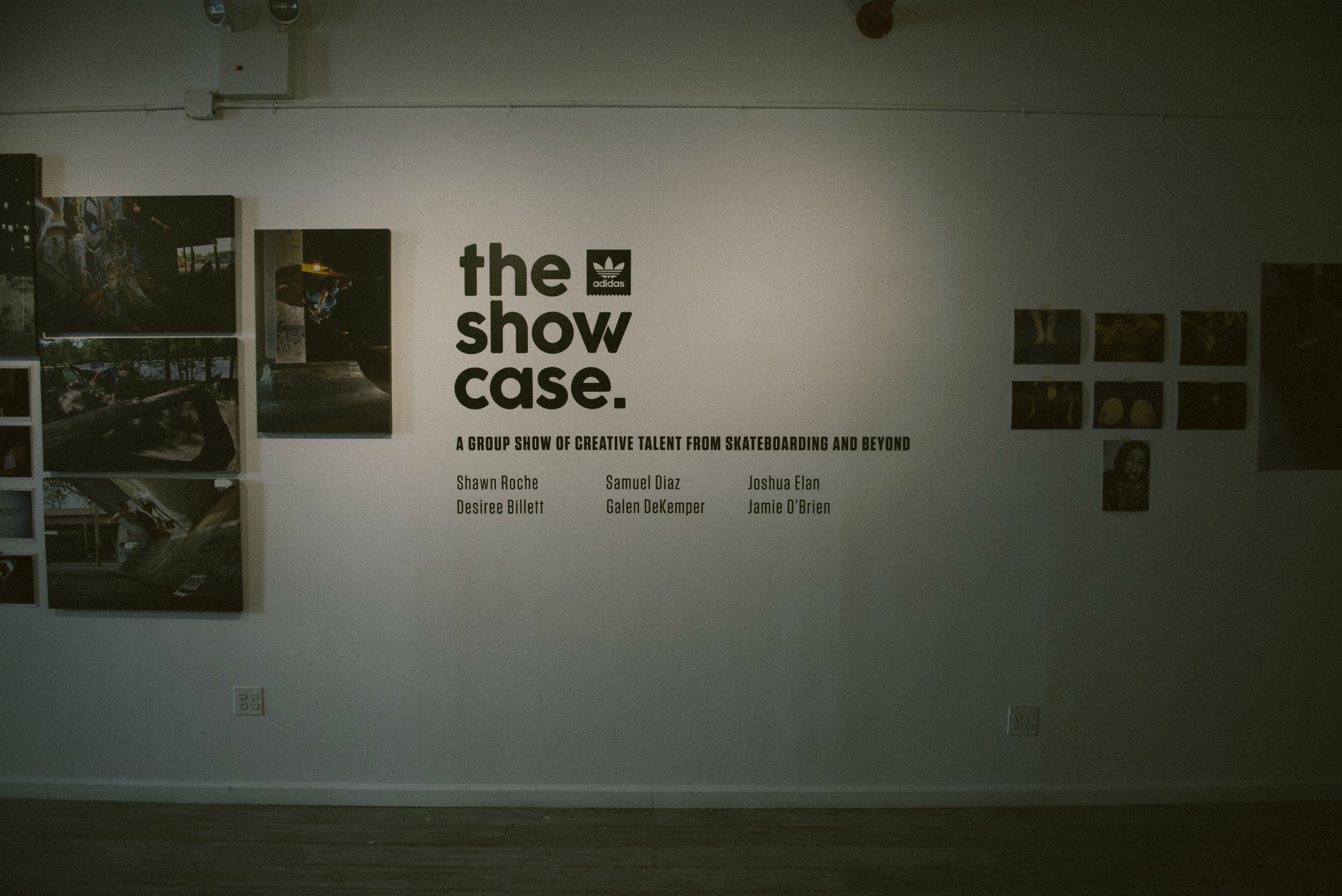 Images courtesy adidas unless otherwise noted.
I couldn't help but think about skateboarding as sport and lifestyle and my own limited experience with it. This group of artists and those they continue to feature through this project are constantly risking physical harm. Last night's opening was a flip of script taking personal risks and exposing their inner workings.
Jamie O'Brien's works were focused on local hang spots. With his work we see the grit, but we also see the enclaves of these abandoned spaces that serve for community in skateboarding.
With Joshua Elan's photography, one of the easy to miss pieces was a photograph of a butterfly on a white wall, taped near the floor against a similar white wall. But the act of observing it, capturing it and including it in a body of work that included political commentary, shiny women, and remnants of his family was jarring. There was softness and vulnerability that isn't typically associated with the sport.
Throughout the evening, Joshua Zickert and I would have these moments where we'd chat about the project and something that was deeply embedded at his core, was that all the artists had at least a decade of skateboarding in their blood. Which brings us to Samuel Diaz, the Bronx in the house! His family was there, you could see the pride and support in their eyes seeing his paintings adorning the west wall. Sometimes, skateboarding is cast in a negative light but seeing him with his family, was witnessing at least ten years culminating at this event and there was only room for positive vibes.
Desiree Billett, bad ass boss lady! Her works featuring soft palettes, and desert landscapes felt reminiscent of roadtrips across America . We talked about the intimidating nature of trying to learn how to skateboard in male-dominant spaces and rising above the fear.
The Showcase implied, "creative talent from skateboarding and beyond," and it certainly delivered that. It didn't stop at the high gloss prints from Shawn Roche, or the Dollar Stories from Galen DeKemper—who Zickert proudly announced was the first writer to be featured, it just kept expanding on the hustle and grind and the community that comes together to celebrate those journeys.
—Erika "Saki" Sequeira