Pop Life
Recap: Bonethrower x adidas Skateboarding Collection Release Party
August 07, 2017
This past weekend in Los Angeles, Juxtapoz teamed up with adidas Skateboarding for a special release party of the new Bonethrower capsule collection that hit adidas stores and accounts worldwide on August 5th. We did a feature on our good friend David "Bonethrower" Cook in our new 200th issue (September 2017), and were excited to see our friends and make new friends at the release. Bonethrower was there to sign prints, boards and even created a special throne for you to relax on.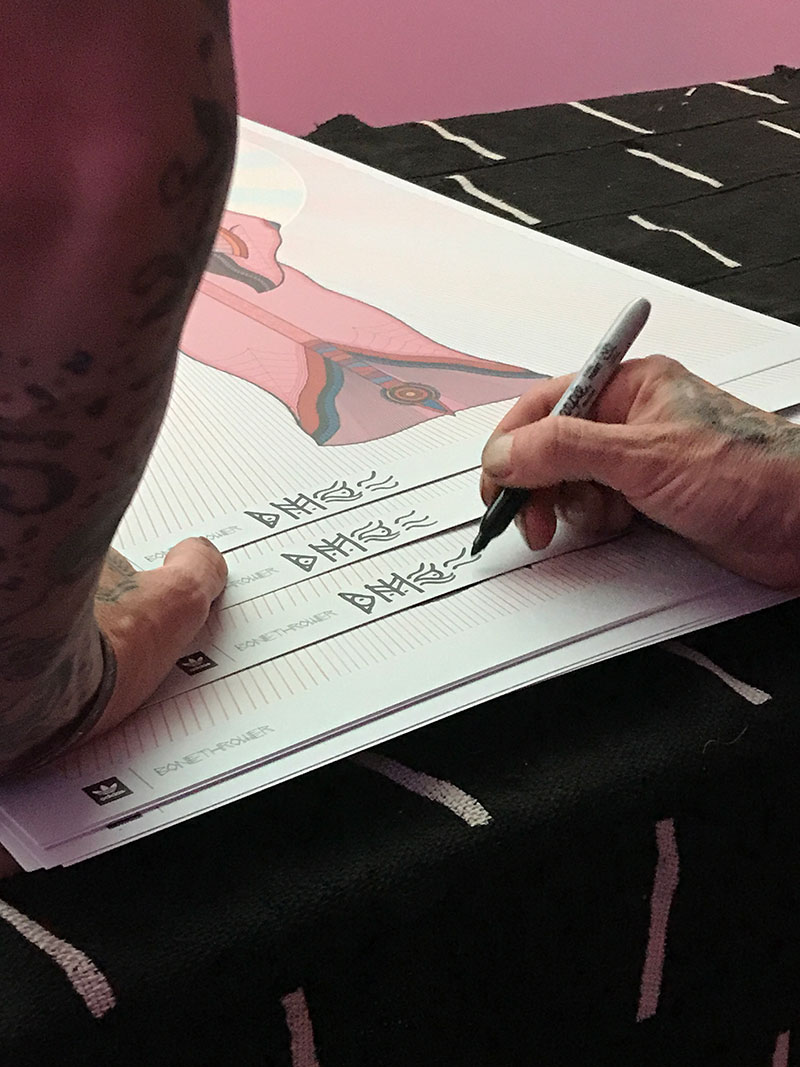 For the adidas Skateboarding collection, Bonethrower's art was used for a customized Matchcourt shoe, track jacket, snapback hat, t-shirt and longsleeve tee. Mark Brickey, who interviewed Bonethrower for the issue, asked the artist about the inspiration and story behind the pieces, which you can read below.

MB: How big of a challenge was it do design a shoe for adidas that had the perfect balance of your design style but still a wearable shoe? If you made it too much about the artwork you could have made a really ugly shoe. For an illustrator, painter, you pretty much nailed your first ever commercial consumer good product!
Bonethrower: Working with the team at adidas has been incredible. I'm a pretty easy going guy and so are all the folks there so it was a bit of a match made in heaven. You are totally correct in saying that it would be easily possible to make a crazy looking ugly shoe. I just wanted to make something that was understated but still had some really cool little details that even an aging dude like myself might want to wear. You know, not to flashy but with some really cool bells and whistles that make you feel like you having something a little special on your feet. I could not be more stoked on what we came up with the shoe and the whole collection.
Growing up skateboarding and having that be such a huge part of your history how rad is it to design a product like these shoes for that world?
I never thought in a million years that one I would get to design anything for adidas and two that it would be a shoe that has my name on it. I mean come on, that is every skateboarders dream. It is by far my favorite thing I have ever had the opportunity to do. I can't wait until it's out there in the world and get to see people actually wearing it. Total dream come true for me.
I recently interviewed Paul Gaudio, the global creative director for adidas, where he referred to adidas as the open source shoe company, "The Creator Brand", it seems they are guiding the company to the culture instead of trying to be the culture. Has it really soaked in yet that you are going to have a pro model shoe with your name on it, not because your an athlete, but because you represent culture!
Dude, again, it still feels totally surreal to me that this is something I got to do. On the top of a list of projects i would dream of getting to do this would be sitting this project. I mean it feels bananas to have a pair of shoes on with your name on them. To have gotten to do something like this based on the art i make and the crazy ideas that I push out into the world feels pretty incredible. I really hope people are into what we have made and skate the shit out of them.
Good news is, culture doesn't blow out your ACL... just fucks up your credit score.
HAHAHAHAHAH You speak the truth sir.

Read our full interview with David "Bonethrower" Cook here

Buy the adidas x Bonethrower collection here

All opening photos by Emily Acosta. Installation photos by Mike Stalter.