Photography
Nick Sethi "For Your Eyes Only Vol 1" @ Ed Varie, NYC
Mar 21, 2014 - Apr 06, 2014Ed Varie, New York City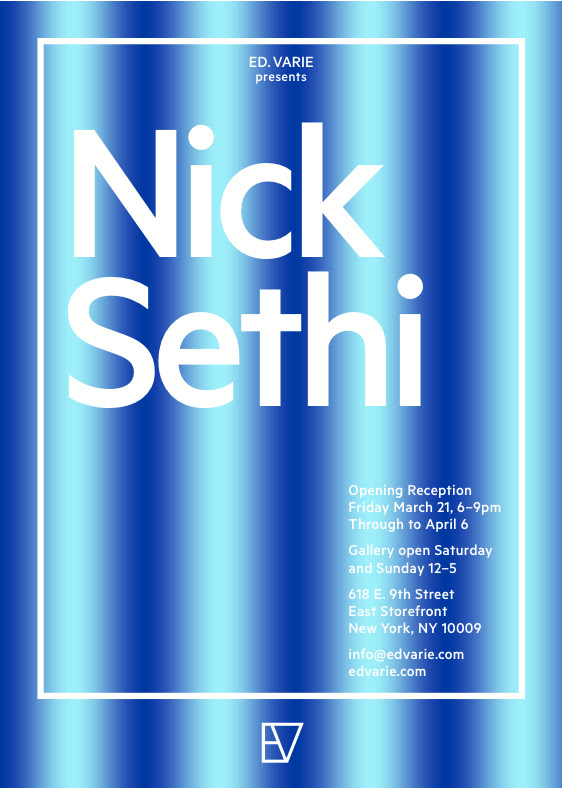 Ed. Varie is pleased to present a solo exhibition by Nick Sethi with an opening reception on Friday, March 21, 2014 from 6-9pm. Orbiting the body of work presented in a self published zine, FOR YOUR EYES ONLY Vol 1., Nick Sethi continues to explore and expand the social investigation of intimate self-portraits, or as the Oxford dictionaries made the official in 2013, the selfie.
From a massive and ongoing collection of found photographs from the internet, Sethi dives deep into the phenomenon of the selfie as a form of self expression operating within the confines of public approval. The selfie has presented itself as a cyclical form of self-expression both projecting and reflecting simultaneously, leaving us to wonder which comes first. The availability and anonymity of these images transforms this newborn narcissistic medium into a free radical of sorts, an unpaired extension of ourselves. The images keep the viewer at arms length both metaphorically and physically, while exposing the process through a meticulously executed partial identity.
On his own journey of self-discovery and expression, Sethi's social media feeds teem with selfies. On a recent introduction to the process of UV tanning, Sethi became interested in 'what else could be out there'. Digging deep into the trenches of internet images, Sethi collected and dissected hundreds of self-portraits, all hand held, taken on a camera phone, circulating for free on the internet, and in tanning salons. Transcending the C-print, the color photographic images are printed on aluminum and mounted to the walls unframed, and will be on view in the dimly light gallery space; an ode to their place of creation and discovery.
Sethi is an American photographer of Indian descent who lives and works in Brooklyn. Sethi has a B.A. in communications from NYU. He has worked with notable photographers such as Chadwick Tyler and Terry Richardson. He has several published books, the most recent with Dashwood, titled Pul Ke Niche.
Honoring the birthplace of the work in this solo show, limited copies of FOR YOUR EYES ONLY Vol 1 will be available on opening night. Nick Sethi's work will be on view at Ed. Varie from Friday March 21 through April 6, 2014. For further information please contact the gallery director at [email protected]